POWER MAXED RACING - KNOCKHILL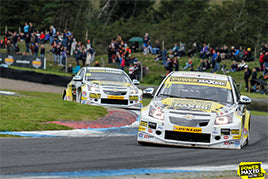 Power Maxed Racing made the long drive North this weekend for the British Touring Car Championship's Scottish round at the legendary Knockhill Circuit. In a weekend of close racing, the team gave it their all and didn't come away empty-handed as Cook took the Jack Sears Trophy.
The weekend started with free practice one, things didn't go exactly to plan as a steering column failure cut Newsham's session short. Newsham had the pace but missing FP1 cost the team a chance to try an alternative setup. Qualifying was a very close session with the Power Maxed Racing pair, Cook and Newsham, being less than 9 tenths off pole. However due to such a tight grid this placed them well down the order and in the thick of the action.
Race one saw both cars take to the grid on the soft tyre. Newsham opted to start at the rear of the grid alongside Plato, to ensure he had clean air to put in a fast lap for a strong place on the grid for race 2. Getting a good clean start Cook was 17th by the end of the first lap. With several cars off over the next few laps and a safety car out to enable the marshalls to remove track debris and drag the tyre barrier back into place. The race resumed and Newsham made it up to 24th as he continued his quest for a fast lap and Cook maintaining 17th place.
With his lap time optimised Newsham then set about gaining grid places, making a few passes and getting up to 18th by lap 13. Both drivers made it to the final lap and managed to avoid any contact or mechanical woes, Cook crossed the line in 16th and Newsham in 18th place.
With the soft tyre option used, both drivers were raring to go for race 2. Under a cloudless Scottish sky, Newsham lined up on the grid in 13th with Cook in 18th and all eyes were on another clean finish. Lights out and both Power Maxed Racing drivers made great starts, gaining places during the opening laps with Newsham up to 12th and Cook up to 15th. Newsham had a little side by side rubbing with Smith's Honda but avoided damage. Another safety car bunched the field back up with the Power Maxed Chevrolets in 12th and 13th. A charging Ingram squeezed between them during a battle for 12th position. Newsham was defending hard but eventually slipped back to cross the line in 13th with teammate Cook in 15th.
Both drivers gaining a grid place for race 3 following Tom Ingrams' penalty for gaining an unfair advantage on Newsham in race 2. Both drivers made another textbook start, with Newsham locked in battle with Collard, the pair taking the twists and turns side by side and entertaining the bumper crowd. Newsham made a typical touring car move to gain 9th place from Collard, with Cook gaining places up into 13th. A troublesome tyre barrier brought out the safety car pulling the field in and delivering plenty of side by side action for both drivers. With a track suited to rear wheel drive, Newsham defended well but could only keep the BMW of Tordoff behind for so long, bringing Shedden and Collard through with him. Cook switched places with his teammate and set about pursuing the bumper of Shedden, whilst making his Chevy as wide as possible to defend from a forceful Depper. The action continued at the front of the grid with Cook joining the battle for 10th place. However, final lap contact saw the checked flag drop on Newsham in 11th place with Cook recovering in 13th.
Adam Weaver, Power Maxed Racing Team Principal commented,
" It is always such a tight grid here at Knockhill and unfortunately finding space to get a good qualifying lap is always tricky. This combined with a mechanical failure for Dave in FP1 cost us dearly."
Weaver continues,
"The team have operated faultlessly as usual and delivered two great machines for the drivers. Both drivers showed great pace during the weekend and were able to compete in and around the top 10 mark."
Power Maxed Racing will return in two weeks time when the championship visits Rockingham on the 5th and 6th September.