Power Maxed Racing - Brands Hatch Finale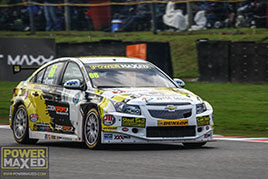 This weekend saw Brands Hatch host the finale of the Dunlop MSA British Touring Car Championship and as promised, it delivered action galore and a thrilling finale to Power Maxed Racing's maiden season.The Kent circuit hosted some great racing, drama and injury from both PMR drivers resulting in Josh Cook being named Jack Sears Champion for 2015 in the Chevrolet Cruze and seeing Power Maxed Racing finish 3rd in the Independent Teams Championship.
The weekend started with plenty of promise, both drivers were challenging in FP1 and FP2 and sitting around the top 10 mark and qualifying was punctuated with too many yellow flags resulting in Cook qualifying 10th and Newsham in 12th, respectable results for both but not a true reflection of both drivers pace.
To add to the drama, Josh Cook's car was chosen by future Technical Partner and series supplier RML as a test vehicle for a raft of new 2016 parts. RML recently won the tender to provide the Standard Chassis components for 2016 and used a number of updated components on Josh's car for the final meeting at Brands Hatch.
Race one saw both drivers make a great start and charge into the first corner making it through cleanly only for Dave Newsham to be fired into the gravel at Hawthorns. Newsham managed to recover and after a quick check in the pits went out to set a fast lap time to help him in race 2. Cook had made a place up to 9th and was right in the thick of a battle with the BMWs of Tordoff and Collard. Cook showed some world class defending to keep the BMWs at bay and challenge triple world champion Priaulx for position. Cook was rewarded with a 9 place finish with Newsham setting a lap worthy of P4 for race 2.
Race two saw Newsham capitalise on his great grid position despite being squeezed out on the first lap, costing him two places, he knuckled down and after an epic battle with the MG of Goff, he pulled a fantastic move at Paddock Hill Bend to get back to 4th, where he crossed the line. Cook had another solid race and maintained his position.
The season finale was definitely one to remember, Newsham made an epic start from 4th on the grid and after 5 laps under the safety car, was pushing hard for position on the restart when the back end came round dumping him into the gravel and ending his season. Josh Cook, on the other hand, had an amazing race considering the circumstances. Heavy contact in a lap 1 battle caused the BTCC Rookie to dislocate his shoulder and in a scene reminiscent of Lethal Weapon, Cook managed to pop it back in during the safety car and go on to finish the race higher up the grid than he started. Following the conclusion of the final race, Josh Cook was confirmed as BTCC Jack Sears Trophy winner and rookie champion for the 2015 season.
Adam Weaver, Power Maxed Racing Team Principal commented,
"I'm immensely proud of the team and what we have achieved this year. From a standing start in January we have launched two highly competitive BTCC cars, made it to the podium, been on pole, set a fastest lap, won the Jack Sears and been consistently in and around the top 10. I said from the outset that this is a three-year programme, realistically were slightly ahead of our plan at the end of year one, so we will build upon this momentum to capitalise for next year."
Weaver continues,
"I can honestly say it has been a pleasure to work with both Dave and Josh, they are true team players and consummate professionals, the chemistry between them has helped drive us forward in a proactive and positive environment."
There is no rest for the team who are already well into preparation for the 2016 season with a schedule of tests planned for the next few weeks to maximise their true potential for 2016.