Champ Newsham moves to Rallycross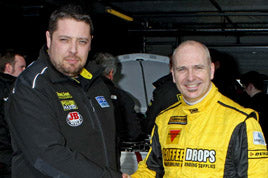 Power Maxed Racing (PMR) are delighted to announce that 2014 BTCC Jack Sears Trophy Winner, Dave Newsham has signed to race for the team in the 2016 MSA British Rallycross Championship. Confirming his sabbatical from the BTCC, Newsham will compete in his maiden season in British Rallycross as Power Maxed Racing look to contest their first ever championship in the formula.
Power Maxed Racing have confirmed they will enter a 600 BHP, All-Wheel-Drive Ford Fiesta in the Supercar class. The team have been working non-stop on their 2016 expansion plans after completing their first season in the BTCC in 2015. They will enter teams into British Rallycross, British Touring Car Championship as well as other championships to be released over the coming weeks.
Dave Newsham had a strong 2015 season with Power Maxed Racing in the BTCC putting his Chevrolet Cruze in and around the top ten. The Scotsman is no stranger to British Rallycross having competed previously in the Super 1600 class. Both Power Maxed Racing and Dave Newsham have also confirmed that key sponsors including 3M, Joyce Design, Coffee Drops, Norscott, Automatic Retailing, Kitwave, Vendman and One Estates will also be supporting the British Rallycross programme.
Adam Weaver, Power Maxed Racing Team Principal commented,
"I'm thrilled to continue our relationship with Dave, he is a highly talented driver and a great guy. It is great news for the team that he has agreed to take a sabbatical from the BTCC to help PMR in our development year in British Rallycross. I was planning to drive myself but when the opportunity arose to put Dave in the seat, it was one not to be missed."
Weaver continued, "British Rallycross has long been on my radar and I am really pleased to be entering this year. I'm incredibly passionate about Rallycross and its potential and bringing a proven name like Dave Newsham is not only good news for us but good news for the championship. We are taking a phased approach into the championship, this year we will be entering a proven car from 2015 before going on to build our own cars for 2017."
Dave Newsham remarked, "I'm really looking forward to a great season in British Rallycross. I love watching the action on TV, it is one of the most exciting forms of motorsport there is. I had the pleasure of sampling it for myself at the 2014 GP, that got me hooked. I really enjoyed working with PMR last year and I am delighted to be remaining part of the family and looking forward to a long future with the team. Their professionalism and skill will stand us in good stead in British Rallycross. It'll take a bit of getting used to as I've spent the last few seasons trying to avoid the gravel but getting behind the wheel of a 600BHP monster is going to be fantastic, I can't wait!"
Newsham continued "I've had five incredible years in BTCC with some very good memories. I would like to take this opportunity to thank the whole BTCC community for their support and my sponsors for the opportunity of making the switch to BRX possible".
2016 MSA British Rallycross Championship will be contested over eight rounds taking place across seven weekends from March to October. The first round is on the 6th March at Croft.
Power Maxed Racing have another announcement due next week.