Suzuki Swift success for Jake Taylor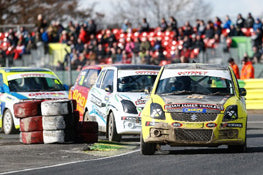 Power Maxed Racing are running a Suzuki Swift in the Swift Sport Championship for future star Jake Taylor. Adam Weaver has identified the 18-year-old as a future star having raced against him in previous seasons and elected to run the Swift alongside the British Rallycross Supercar. Taylor, the young PMR prodigy had a good first heat in his Suzuki Swift showing some mature race craft. He was battling in and around the top 3 all race and crossed the line 3rd. Again in the second race, he was in the thick of the action and set for another top 3 finish however heavy contact from behind caused him to cross the line in 4th. The third heat of the day saw Taylor lead the race comfortably into the lead and keep his nose clean until he crossed the line first.
With Taylor's strong results in the heats, he made it to the semi-final with ease. Starting at the front of the pack, Taylor made his trademark excellent start making it into the first corner in the lead, a lead he maintained whilst those behind battled amongst themselves leaving the youngster to comfortably win his semi-final to progress to the final. Starting on the second row of the grid for the final, Taylor got a good start and was in the thick of it all race, battling for 3rd but just unable to clinch the place before crossing the line just off the podium in 4th.
Jake Taylor, Power Maxed Swift Driver commented, "I've had an excellent first outing with PMR, working with such an established and successful team is a joy, they have already helped me develop the car and I'm looking forward to even more support as the season continues."
Adam Weaver Power Maxed Racing Team Principal commented, "We see great things in Jake, it is frustrating to be just off the podium in the final however this is Jake's best result to date when a full field has crossed the finish line" Weaver continues, "It stands Jake in good stead for the championship and we look forward to developing him further as the season develops."
The MSA British Rallycross Championship continues at Lynden Hill in Kent on the 27th and 28th March.