Brayden Fletcher Joins GT5 Challenge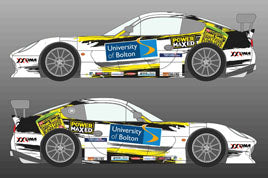 Brayden Fletcher, the younger brother of Emmerdale star Kelvin, has today confirmed his plans to join the Protyre Motorsport Ginetta GT5 Challenge for 2016 as part of the Power Maxed Racing Team.
The 19-year-old actor from Oldham makes the step up from the Mighty Mini's, where he finished fourth overall, taking four wins and 12 podiums over the course of last season. Now ready to make his debut on the British GT support package, Brayden is looking forward to getting to know his new car and new team.
Both Brayden and Kelvin have starred on the UK's favourite soaps. Whilst Kelvin is best known for his role as Andy Sugden in Emmerdale, Brayden has appeared on Coronation Street.
Although he doesn't even look old enough to drive, the self-proclaimed 'best dancer in the paddock' will be hoping his quickstep will be just as effective on the throttle pedal as he makes his Ginetta debut at Brands Hatch next month, with sponsorship from The University of Bolton.
Brayden Fletcher, driver; "Ginetta have a well-publicised history of producing top drivers, and for an aspiring racing driver like myself, the Ginetta GT5 Challenge is the perfect platform for me. Not only that, but it's a big championship with large, competitive grids and to be a support race to both the British GT and the BTCC as part of it was too good an opportunity to miss for an aspiring TV personality such as myself…"
Kelvin Fletcher, "I've been a fan of Ginetta for years, and have been to a number of their events and driven a selection of cars. Ginetta and Lawrence do a great job of nurturing young talent, and I'm sure Brayden is in the right place when it comes to progressing his own racing ambitions."
Power Maxed Racing are known predominantly for their British Touring Car team following a successful maiden season in 2015. They will be running Brayden Fletcher's Ginetta in the GT5 Challenge for 2016 as well as running Kelvin Fletcher in the BTCC.
Adam Weaver, Power Maxed Racing Team Principal commented, "We're delighted to be working with the Fletcher Brothers this year. The chance to run Brayden's Ginetta in the GT5 Challenge is fantastic and will be the start of our future expansion into GT racing. The Ginetta GT5 Challenge has a great reputation and some stiff competition, however, we also have a reputation for entering a championship and making our mark so we'll have to wait and see.
Two rounds will step up onto the UK's biggest championship package, as they join the British Touring Car Championship support bill. Meaning drivers will race at Thruxton (07/08 May) and Croft (18/19 June), with coverage live on ITV4.