Character-building weekend for Taylor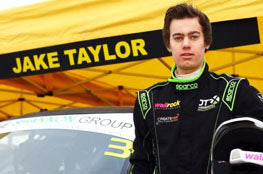 Swift Rallycross Championship driver Jake Taylor endured a tough character-building weekend at the second round of the MSA British Rallycross Championship at Lydden Hill in Kent (March 27 – 28).
The Power Maxed racing driver's weekend started strongly, continuing the great form shown at the opening round of the championship at Croft Circuit, where he finished fourth. Starting on the back row of the grid in the first qualifying race, Taylor stormed into the lead to win the race on track and set fourth overall time. However, bad news was to follow, Taylor was excluded for a minor technical infringement, meaning he had it all to do in the second and third qualifying races to ensure a good grid position for the semi-finals.
Taylor again made an impressive start from the back row in his second race, but while battling through the highly-competitive Swift Sport field, contact with another car meant a broken driveshaft and a non-finish. Q3 went better, and showed Taylor's potential, again starting from the back of the grid he climbed to third in his race on track to set seventh overall time, and secure a place in the crucial semi-finals.
Another great launch propelled Taylor through the pack on the opening lap of the first semi-final, but heading into the second corner, the MSA Academy Member was forced to take avoiding action of an incident ahead, and in doing so damaged the transmission of the Power Maxed Swift, putting an end to a difficult weekend.
"That was the toughest weekend of rallycross in my career so far. I'm really pleased with my pace, and the pace of the car," said Taylor, who despite the challenges and a number of technical issues, showed his race craft and maturity to help him battle up the feild from the back of grid in every single race.
"I guess we experienced the sum of lots of problems coming together all in one weekend, making it an incredibly tough event, but I do understand that's how motorsport is sometimes. The car felt brilliant this weekend and when I was in the mix I was confident and well on the pace, making some rapid starts and solid manoeuvres that gave me strong lap times. I enjoyed the whole experience at Lydden, it always feels special to race at the home of rallycross."
Following the difficult event, Taylor is sixth in the championship standings, and is now focusing on the third and fourth rounds of the championship at Pembrey, in just over a months time (May 1 – 2). "Rallycross gave all it could throw at me in one challenging event this weekend, but it is all learning and only makes me stronger, more experienced and more determined than ever for Pembrey. The whole team and rallycross paddock helped me out a lot at Lydden, and we came home with some valuable championship points. The battle continues at Pembrey and I couldn't be more excited!"
Final results, Round Two, Lydden:
1 Nathan Heathcote
2 Simon Ovenden
3 Rob Maynard
4 Aiden Hills
5 Christian Hainsworth
6 Drew Bellerby
7 Andrew Hawkes
8 Chris Woollett
13 Jake Taylor
Championship standings after round one:
1 Aiden Hills 55
2 Nathan Heathcote 55
3 Simon Ovenden 50
4 Christian Hainsworth 40
5 Drew Bellerby 37
6 Jake Taylor 35
7 Andrew Hawkes 35
8 Chris Woollett 33