PMR bags points at Brands Hatch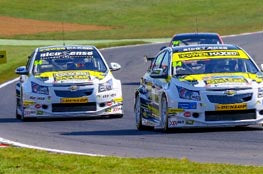 Power Maxed Racing were in action this weekend in the opening round of the 2016 Dunlop MSA British Touring Car Championship. Held at the famous Brands Hatch circuit, it saw Emmerdale Actor Kelvin Fletcher complete his first BTCC laps and seasoned racer, Hunter Abbott his first ever front wheel drive laps in a British Touring Car. The team had a successful weekend overall scoring points in two of the three races and would have scored in all three if they hadn't been on the receiving end of an incident created by Ollie Jackson's poor judgement which he received an official reprimand and two penalty points on his licence for.
Qualifying was intense and one of the tightest in years with the top 22 drivers covered by a mere 9 tenths of a second, both Power Maxed Racing drivers represented well with Hunter placing 21st and Kelvin 11 places behind him after his first ever qualifying session.
Both drivers got off to a strong start in an action-packed first lap, Hunter gained a clutch of places putting his Power Maxed Chevy up to 17th and Fletcher pushed hard up to a respectable 23rd. Lap 4 saw the first incident of the race involving Ollie Jackson, Jackson squeezed Collard and cascaded him into Abbott resulting in a spin on Cooper Straight. Abbott recovered with style and maintained momentum but the incident pushed him to 18th. Meanwhile, Fletcher was finding his feet and gained a place to put his Power Maxed Racing Chevrolet into 21st. At the half way point the Audi of Ollie Jackson reared its head again and not content with spinning Hunter earlier head on into Austin, he made a late lunge to the pits from the far side of the track, unfortunately, collecting Abbott, heavily damaging the front of the Power Maxed Racing Chevy and causing him to retire. Fletcher continued to push in his first ever BTCC race until a turbo failure caused him to retire on lap 17.
The team worked flat out to get both cars on the grid for the start of race 2. Abbott made a great start, gaining places on the first lap, with side by side action illustrating the strong handling of the Power Maxed Racing machine. Abbott narrowly avoided a spinning Toyota of Smiley and then darted around the Ford Focus of Lines whilst it careered into the infield. By lap 12 Abbott had made up 7 places to put him 21st, with Fletcher holding solid in 27th. Abbott set about chasing the pack in front to break into the top 20 and all was going well until an oil spill at Graham Hill Bend caused chaos, both Power Maxed Racing drivers made it through safely. Abbott continued to apply pressure and it paid off as he crossed the line in 15th place, an impressive gain from 28th. Fletcher completed his first BTCC race, crossing the line in 25th, up two places on his starting position from a grid of 32.
Both Power Maxed Racing drivers were primed and ready for the third and final race, in usual BTCC style, it delivered an action packed end to the day. Fletcher had strong pace during the opening laps with times continuing to improve. With increasing confidence and starting to push the car limits, Fletcher, unfortunately, after a safety car outing, with tyres cooled lost the back end of his Power Maxed Chevrolet on Paddock Hill Bend and ended up in the gravel. Abbott pushed hard avoiding the carnage ahead and moved swiftly up the pack. Keeping great pace and looking very racey, he was clearly enjoying the switch to front wheel drive. Pushing past former teammate Austin, the pack exchanged places and demonstrated clean, fast paced racing, much to the entertainment of the bumper crowds. Hunter crossed the line in 13th, the second points scoring finish for the weekend.
Hunter Abbott commented "We only managed a handful of laps before Brands and I was itching to get out and learn some more about front wheel drive. Now, with the first round complete I learnt a lot and I'm feeling much more comfortable, everything is feeling very natural and some of the differences in technique are starting to switch from conscious thought to subconscious, which brings with it confidence in the car and what I can do with it. After race 1 I was livid, being taken out not just once but twice, by Ollie Jackson. The second time causing extensive damage to my car after he cut across the racing pack to enter the pitlane at the last second - thankfully no-one was hurt but it could easily have been a very different story if we had hit the end of the pit wall or crashed into the pits at over 100mph, I'm glad the championship reprimanded him for his actions. Race 2 was a highlight, being only 0.2 seconds off the fastest time and recovering from 28th on the grid to 15th and finishing the weekend up with two points finishes."
Kelvin Fletcher commented, "I can honestly say I was a little nervous before the weekend as it was my first BTCC start and my first drive in the car. I got a good start for race 1, with each lap my pace improved and with that my confidence in the car and the pack around me grew. I've had a few technical gremlins but it hasn't taken the shine off my first BTCC outing. It was a shame to end race 3 in the gravel, I'll hold my hands up to that one but I always said I'd go out on a high."
Fletcher continued,
"Considering the lack of testing I'm happy with my pace and the lack of damage compared to the rest of the paddock. I'm looking forward to Donington Park and showing what I can do, a good start to what will be a great year for Power Maxed Racing."
Team Principal Adam Weaver commented,
"We have worked tirelessly in preparation for this weekend's racing. With the late signing of both drivers, we have unfortunately not had the testing sessions we had planned to work through the new engine developments and RML parts."
Weaver continued,
"After this weekend's racing I am very proud of what both drivers and the team have achieved, we scored points, gained much-needed driver time and ironed out a few niggles and are ready to move swiftly onwards and very much upwards, roll on Donington Park. The Swindon prepared GM engine's and our chassis' are great with gremlins now ironed out we are excited for the next round, a track where we were strong last year with us even leading a race! With Hunters best ever BTCC result to date being a 10th, gaining a 13th with us the first time out in the car inspires confidence and it's highly likely he will beat his best ever result at Donington in 2 weeks time".
The seasons continues at Donington Park on the 16/17 April, full coverage can be found live on ITV4.