A Hand completes Power Maxed Racing's BTCC Line up.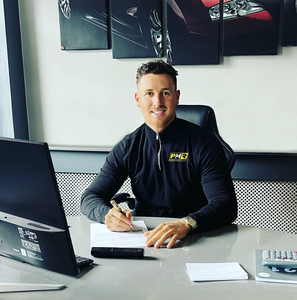 A Hand completes Power Maxed Racing's BTCC Line up.
Power Maxed Racing are very happy to announce that Ash Hand will join the team for his debut season in the KwikFit British Touring Car Championship.
Ash, started his racing career in Karts, at the very young age of 12 then, after winning many championships he accelerated his way in to racing cars.
Hand, is a very talented driver with a spectacular history of multiple wins in the Renault UK Clio Cup a mainstay of the BTCC support paddock for many years,
Himself narrowly missing out on the championship title, which that year went to none other than now 3 times BTCC Champion, Ash Sutton.
With his most recent success being him becoming the 2019 British GT4 Champion.
Highlighting his successes in 2015 would see Ash' win the Highest average speed ever in a UK Clio Cup race hitting a impressive 99.98mph which firmly put him, on the British motorsport radar. In that same year he narrowly missed out on taking the overall Renault UK Clio Cup title, after winning an impressive 7 races and securing 8 pole positions and 6 fastest laps. Also, he proudly received a place on the BRDC Rising star programme, which has a proven track record of selecting only the best drivers, Lewis Hamilton MBE included!
In 2019, he became British GT4 Champion with team mate; Canning. However in traditional GT4 fashion, the battle to be crowned champion was not an easy one and the fight was intense with a record six crews in contention for the overall crown heading into the final round, they came out on top and eventually topped the table with 117.5 points.
Power Maxed Racing welcomes his wealth of knowledge and driver experience to the team, his belief in himself and above all else his burning desire to win.
Although having raced for many years in various disciplines and all over Europe including, Aragon in Spain, and famous tracks such as Imola and the Red Bull Ring he has for many years desired to race in the prestigious, British Touring Car Championship, and has worked tirelessly alongside Team Principal Adam Weaver for the last few years helping to put a package together to make that dream a reality.
That assistance and tenacity has paid off and helped them both to secure the team a very large and long term strategic partner, signing a multi-year deal with the team, enabling Ash to commit to the BTCC for the foreseeable future.
The 29-year-old, from Warwickshire has been focused on fatherhood for the past couple of years but is however now hungrier than ever to get back in a race car and returns back to racing in the pinnacle of UK motorsport, proudly running with his most local team; Power Maxed Racing.
Ash Hand said "This is a dream come true for me, the dream after this one is a race win in the BTCC and the dream after that is to be crowned BTCC Champion. The deal we have put together, I believe, gives me, the best possible chance of achieving this. A multi-year deal securing my future in BTCC is the holy-grail of deals as a race driver. Adam and I have been working on this for years and to be honest when we started I only thought about a one year deal, getting one that could become a 5 year deal is something all racers generally only dream of. Id like to take the opportunity to thank Adam for the faith that he has already put in me and the work he has put in over the last few years to help get this over the line and put me out in one of his cars. Most will never truly grasp just how hard he and the team work quietly behind the scenes, I can assure you there has been some setbacks along the way but you just cant keep him down. I promise I am going to reward that with the results him and all the team deserve."
Team Principal Adam Weaver clearly beamed with joy when questioned why he had put so much effort behind getting Ash Hand in a Power Maxed Racing Astra stating "He is just a great guy, I absolutely loved watching the Clio Cup in between BTCC races and the battles between Ash Sutton and Ash Hand were just incredible to watch, many of which I watched again on catchup when I got home from racing and I have watched them all again on YouTube recently, just to remind myself of why I've nearly killed myself with stress to get him in a BTCC car. Everyone knows the talent Sutton has and this may be controversial but I believe Hand really should of won the Clio championship that year and I just can't wait to see him go and challenge Sutton again and very hopefully come out on top this time.
I know Ash and Creesy will get on brilliantly and I'm really looking forward to being a part of this team. Its everything we have been working towards and I have never been this excited about the BTCC year ahead"
Not long to go, until his dreams become a reality and with his debut round of the BTCC season being at one of Ash's favourites and his home track, Donington Park National Circuit on the 23rd/24th April, with all his family & friends supporting him, he hopes he will be able to hit the ground running.