A tough time in Scotland... Knockhill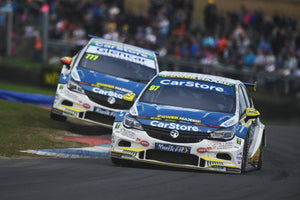 CarStore Power Maxed Racing have a tough weekend in Scotland. 
CarStore Power Maxed Racing headed North then some more North and finally North again before eventually arriving at Knockhill for rounds 16,17 and 18 of the Kwikfit BTCC.
Everyone was in good spirits having had some downtime over the break, but we were also buoyed by a successful 2 day test at Snetterton 2 weeks prior and were eager to get going.
The rain met us on arrival at the track on Saturday morning and continued in to our first practice session. It was stopping but the track was still wet. As soon as it showed a hint of a dry line Creesy opted early for slicks and proceeded to set the 3rd fastest lap of the session with Hand changing shortly after him, coming in 11th.
The sun started to come out and the circuit warmed quickly, a few set up changes were made to allow for the changes in weather and we headed out in to FP2. Overall the session was positive with us finishing around the top 10, we started to believe 2 top ten qualifying positions was on the cards for the day.
With some final tweaks made ready for Qually we headed out with everyone in the team very confident that we could qualify inside the top 10, having been plagued with bad luck in every qualifying session to date.
As the session progressed we hadn't managed to get a flying lap in with our drivers being blocked by drivers not fully aware of their surroundings or cars returning to the track after their own trips to the gravel. The drivers kept their composure and eventually we managed to string our sectors together and put in our best laps. Both Drivers putting in excellent performances - backed up by the data seen after the session, but sadly all we could muster was a disappointing 17th and 18th with Ash just pipping his team mate.
Race day came and we tried to be positive, we generally have a good race car and our drivers are both out and out racers and always up for an overtaking opportunity.
Race 1
With us starting so far back, both drivers ended up in different accidents and finished 2 laps down finishing together in a measly 25th and 26th position. 
Race 2
With us now having to start even further back in 25th and 26th the job was even harder. Creesy managed to work his way up to 19th, partly due to an over taking manoeuvre taken by Hand which saw him make contact with an Infiniti, letting Creesy through but ending Hands race early. 
Race 3
Again starting towards the back in 19th and 26th the lads had a lot of work to do, but with the hearts of lions they fought hard making many fantastic overtakes to progress to finish the day 16th and 17th narrowly missing out on points finishes.
It was a great effort and strong result when considering our start positions, but the only positives we can take from this weekend is the weather, the fans and a relatively low amount of damage inflicted on the CarStore. Power Maxed Racing Astras.
Adam Weaver, Team Principal said;
Another disappointing qualifying session and subsequent race weekend, its heart breaking, as I know how much effort everyone puts in and how well the lads are driving. Somehow the other engine supplied cars are managing to find another half a second or more in every qualifying session so far this year and we just cant create that currently with the engine we have. In FP1 and 2 we think and look like we are doing a great job and then come Qually, they make a massive jump ahead of us. Our two are great racers but with all BTCC cars so similar and with us seemingly down on power, it is a massive job for them to make progress, usually results in us either picking up damage bills in others accidents or having to be so robust with overtaking we risk points on their licences. Some serious head scratching is needed between now and Snetterton as the difference in power will really show there and quite frankly our results could be embarrassing. The only thing im thankful for is that there are other teams with the same engine in the same position and hopefully we can all pull together to take the fight to the other providers.
Martin Broadhurst – Team Manager and Technical Director
It was great to see the crowds back out in full force at Knockhill coupled with mostly great weather for the weekend. On track the guys battled hard with the package they currently have and as always the team worked tirelessly between sessions to get the cars turned around and ready for battle each time, coupled with a late night on Saturday to change Michaels engine after qualifying ready for race day. I can't thank the guys and girls enough in the team for their constant hard work and dedication.
Ash Hand
Our Toughest weekend so far, no matter what we did we just didn't have the speed to compete. In qualifying we were a tenth of what we thought would put us top 5 and we ended up 17th. Not the weekend we had hoped for but our focus now is on Snetterton.
Michael Crees
That wasn't the weekend I had hoped or planned for and yet another weekend of what could have been. We brought quite a bit of confidence with us to Knockhill after our strong run at the tyre test a few weeks ago but it certainly didn't work how we expected at all. We just seemed to struggle with power, I think we all probably did the very best we could with what we had. I don't know our exact problem but we are certainly lacking some mid-range and top end and currently we can't fight on an equal footing.