Bittersweet Weekend for PMR's TCR-UK & VWRC Challengers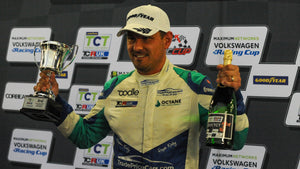 This weekend saw the first round of the 2021 Goodyear Touring Car Trophy, encompassing TCR-UK and the Volkswagen Racing Cup, both of which Power Maxed Racing would enter multiple vehicles in.
In the Touring Car Trophy, incorporating TCR-UK, Sunday morning's Qualifying session would see the 3 Power Maxed Racing Cupra Leons of BTCC Development Driver Jac Constable, Dan Kirby and Will Butler, qualify P8, P7 & P6 respectively. Both Kirby and Butler join the team for their second consecutive season, although last year was very much a learning curve for both. 
Silverstone would see Constable's first ever competitive race in front-wheel-drive machinery. The 22-year-old has masses of experience under his belt, having won the Ginetta GT4 title in 2017, along with the 24hrs of Dubai in 2018, and is using the season as his opportunity to hopefully springboard into the BTCC with PMR in 2020.
Lunchtime would see the first race of the year, and after some fantastic racing, saw Dan Kirby grab a class podium, finishing P4 over all, with Butler P6 and Constable P7.
Slightly further back, PMR stalwart Russell Joyce, boss of long-term Team Partner Joyce Designs, would finish the first race P2 in class after a fantastic display of driving, with teammate Chris Wallis ending his first ever Volkswagen Racing Cup race P4 in class.
Race 2 would see bad luck beset all but 2 of the PMR drivers, with Russell Joyce having to relinquish his all-but-guaranteed Volkswagen Racing Cup podium place thanks to a broken drop link, whilst in the TCR-field Constable suffered a puncture mid-race, ending his day, and Butler suffered a fuelling issue on the penultimate corner of the last lap.
Positively, Kirby would put in a fearsome drive, holding off current Champion Bradley Kent to take P3 overall, whilst Wallis would take another P4 in class.
Dan Kirby - "I'm absolutely delighted with the weekends results. To come away from Silverstone 3rd in the drivers standings whilst collecting a podium in Race 2 means we really have something to build on heading into the next event at Castle Combe."
Jac Constable - "It's been a slightly frustrating weekend to say the least. After what we thought was a good day on Friday, it seemed that we lost a bit of pace for qualifying and the races. I'm happy to have my first couple of races under my belt though, and am looking forward to getting my teeth into the rest of the championship."
Will Butler - "Lots of positive to take from the weekend; luck wasn't on my side for sure, but the speed was up there at the top. Roll on Castle Combe, where I can hopefully put what I've learned so far to good use."
Russell Joyce - "Great start to the season with a podium! It would've been even better if a broken drop link hadn't scuppered our plans for a double podium. We have a few developments for the next round and we are feeling very positive!"
Chris Wallis - "It was a great weekend for our first race in the VWRC, and I'm happy to have finished both races. It's all a learning curve for me, and after gaining a second on our qualifying time, we came away with some ideas of improving the the car and set up to hopefully make us more competitive. Looking forward to he next round and testing later this week."
Both the Goodyear Touring Car Trophy and Volkswagen Racing Cup next take to the track at picturesque Castle Combe circuit on the 31st May.