CarStore PMR flying high ahead of Donington Park return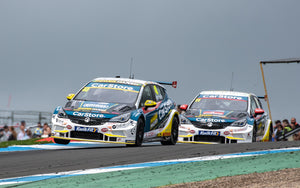 CarStore Power Maxed Racing return to Donington Park for the next three rounds of the Kwik Fit British Touring Car Championship this weekend [26-27 August] riding the crest of a wave, after returning to the podium last time out at Knockhill.
An inspired call by engineer Dan Rathmill to switch to wet-weather Goodyear tyres in a dry-damp opening race in Scotland paid dividends for the team's trio of Andrew Watson, Aron Taylor-Smith, and Mikey Doble, elevating them through the order.
It enabled Watson to take a maiden BTCC podium in second, the team's first since October 2021. Taylor-Smith would follow it up with an Independents win in the second contest, before Doble led the charge in the reverse grid finale.
As a result, the team make the short trip to Donington Park this weekend a solid second in the Independent Teams standings, and with Doble and Watson just a point apart as the clear leaders among the Jack Sears Trophy runners.
It's a special weekend for both circuit and championship, as the BTCC races on the full 'Grand Prix' layout for the first time in two decades.
Surprisingly, given the change in lap is only three corners, it adds a different set of challenges for the UK's premier touring car category to navigate. This includes the fast left-right Foggarty Esses, another prime overtaking spot on the brakes into the Melbourne hairpin, and another tight hairpin at Goddards to close each lap.
That, plus the usual sequence of high-speed, flowing corners will deliver a thrilling spectacle for the capacity crowd trackside, plus millions more watching live on ITV4.
Recent results, plus the team's promising showing on the GP loop during the in-season Goodyear Tyre Test, at which Taylor-Smith was second-fastest minus the hybrid system on board his car, have kept motivation high at HQ, as the team continues to build back towards the front on a regular basis.
Competitive action begins with qualifying at 15:40 (BST) on Saturday, following the usual two free practice sessions to help the teams, and drivers, get dialled in ahead of the weekend's action.
Sunday features the usual fare of three races, with lights out scheduled for 11:45, 14:45 and 17:20 respectively.
Andrew Watson (#11) said:
"I'm really looking forward to Donington Park this weekend. It's probably the best prepared for a race I've been this year, because we've raced the National circuit already and had a good tyre test on the GP loop during the break.
"The car felt good on both those occasions, and Knockhill was such a strong weekend for the team, so confidence is definitely up.
"I'm learning more and more about front wheel drive, and racing in the BTCC all the time. Hopefully we can score some more good points and capitalise on the good spirits we're all in. I'm looking forward to it!"
Aron Taylor-Smith (#40) said:
"I'm in a great headspace going into Donington this weekend. Racing on the GP circuit is something that hasn't been done in 20-odd years.
"We're going back there off the back of a really strong test there in the summer break, where I felt like we progressed the Astra, and after our most successful weekend as a team at Knockhill, so the wind is very much in our sails.
"I'm going in more confident than ever. I know what the team, the car, myself are capable of, and I think we can put on a good fight this weekend. I'm feeling bright-eyed, bushy-tailed and excited to see what we can do!"
Mikey Doble (#88) said:
"Donington GP is a very memorable circuit for me. I achieved many of my career milestones on this layout, including my first championship in car racing last year.
"I feel very confident on the cars pace heading into this weekend, as we showed great speed at the tyre test this summer. I am aiming for a strong Saturday performance to set us up well for some decent results in Sundays races and of course to increase my lead in the Jack Sears Trophy."
Martin Broadhurst, Team Manager said:
"Everybody at HQ has had a smile on their faces since Knockhill, which is great to see. But, of course, that just makes us all the more motivated to turn it into a regular occurrence.
"Donington was a good circuit for us earlier in the season, in both wet and dry conditions. It is a slightly different layout, of course, but we know we have a good baseline to work from with the drivers, and the car.
"I'm sure, as always, qualifying will hold the key, and then from there we'll keep pushing to make the best of what cards we get dealt."
Adam Weaver, Team Principal said:
"Knockhill was a really important milestone for the team this season. We've been saying for some time now that we're re-building, moving in the right direction and getting back to where we should be. It's nice to showcase that in results, as much as our performance.
"But Donington is a new weekend, with a fresh set of challenges. It's somewhere we made a few headlines at in the spring, so fingers crossed we'll be similarly competitive this time out, and we can build on Knockhill.
"We're in a good position now for both the Independent Teams' and Jack Sears Trophy standings, so it's important we continue to push on and make the most of that.
"I can't wait to get back trackside, and I look forward to sharing the weekend with all of our fantastic partners and supporters, who do so much to keep us on the grid and in the fight."