CarStore PMR impress with top-ten qualifying appearance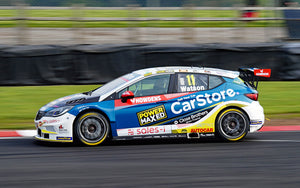 Andrew Watson made it a flying start to CarStore Power Maxed Racing's 2023 British Touring Car Championship campaign, putting the team into the top-ten shootout at Donington Park during qualifying this afternoon [22 April].
On debut, the experienced GT contender adapted quickly to his new Vauxhall Astra challenger to post the eighth fastest time in the initial half-hour session, earning Watson a spot in the coveted pole position shootout.
Against a host of championship stalwarts, the 28-year-old posted the ninth fastest time, giving the Northern Irishman a strong starting berth for the first three races of the new campaign tomorrow [23 April].
But for a red flag, team-mate Aron Taylor-Smith could well have joined Watson inside the top-ten, the Irishman within striking range and up on his fastest time before the session was curtailed early, with a car stranded in the gravel at Redgate.
Both he and series newcomer Mikey Doble, however, acquitted themselves well and will start 16th and 21st, and with every chance of fighting for points at the season-opening triple header.
For Watson and Doble, there is also the promise of Jack Sears Trophy silverware on offer, the duo starting on de-facto pole position and fourth within the class, eligible for drivers without a podium finish prior to the start of the season.
ITV4 will showcase all three races from the 1.96-mile Leicestershire circuit tomorrow, with the races starting at 11:30, 14:40 and 17:25 (BST) respectively.
Andrew Watson (#11) said:
"What an experience, today has been so much fun. We got into the top ten shootout as well, which I wasn't expecting on the first go. It's a massive bonus.
"Huge thanks to everyone in the team. They worked flat out through Easter and that shows with our performance out on track.
"The cars are in good shape for tomorrow, we're in the mix and I'm looking forward to whatever it brings."
Aron Taylor-Smith (#40) said:
"Overall, I'm happy with the day. This is probably the first qualifying sim I've done in the Astra, just because we've been prioritising other stuff during testing.
"We should have had both myself and Andrew inside the top ten. On my final run, when we started getting the car into the sweet spot, we produced a lap for P16, and on my next lap, we were already up on that again by two tenths, which would have seen us through, but for the red flag.
"But that's life, and for a first session, I'm very happy. We have a very good base to go forward with tomorrow. I believe there's some inclement weather due, which should help me even more. We have the potential to get stuck in in all three races."
Mikey Doble (#88) said:
"I'm really happy to get my first day in the BTCC under my belt. We've made consistent improvements to our lap times throughout the day, and as a result, I think we'll be in the mix during the races."