CarStore PMR launch 2023 campaign at Brands Hatch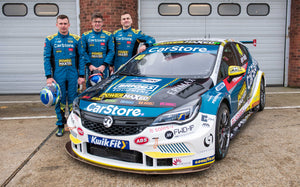 CarStore Power Maxed Racing officially launched its 2023 Kwik Fit British Touring Car Championship campaign at Brands Hatch this week.
The team's new-look driver line-up of Aron Taylor-Smith, Mikey Doble and Andrew Watson first made the trip to the London Golf Club in Kent last night [11 April] to meet the media, gather official photos and video content, and network ahead of the new season.
Brands Hatch then set the scene the following morning, as the team lifted the covers on a refreshed new livery for it's three Vauxhall Astra challengers and enjoyed a full day of testing around the 1.2-mile Indy circuit.
In testing trim, the team showed good pace in both wet and dry conditions, with all three drivers in and around the top ten across six hours of running.
The official Season Launch also marked an early opportunity for the fans to get up close and personal with the stars – and their cars – with an autograph session and 'meet and greet' held over the lunch break.
The opening three rounds of the 2023 BTCC season take place over the weekend of 22-23 April at Donington Park, Leicestershire.
Andrew Watson (#11) said:
"It's been a long winter of building up, so it's really exciting to finally be here at Brands Hatch and launching the 2023 season with CarStore Power Maxed Racing.
"The liveries look fantastic, and it was great to get another opportunity to test and make some progress with the car before the opening rounds next week.
"I'm feeling really positive and can't wait to get to Donington now and begin my first season in touring cars."
Aron Taylor-Smith (#40) said:
"Honestly, I don't remember the last time I was this excited ahead of a BTCC season.
"It's always a big moment in pre-season when everybody assembles for the Season Launch, and a great chance for us to show off the new livery on our Vauxhall Astras, which frankly is stunning.
"Testing was another step forward for us too in mixed conditions, and we'll go straight to Donington tomorrow for another day of running to make sure we're going into the first round in good shape."
Mikey Doble (#88) said:
"It still hasn't completely sunk in that I'm going to be racing in the BTCC this year, but days like today certainly help make it feel like a reality!
"It's great to be here together with everybody, and to launch the new livery. I think it all looks fantastic, and I'm really grateful to my sponsors and FSM for their support to get me to this stage in my career.
"Fingers crossed we can keep learning and improving like we did today, and head to Donington in with a shout of some good results."
Adam Weaver, Team Principal said:
"We have such a fantastic set of partners on board with us this year, and it's great to see the finished livery in the flesh. If it goes as fast as it looks, I think we'll be in for a really positive season!
"It wasn't an ideal day in terms of how much running we managed, but it's given us a really good idea of what we need to iron out ready for Donington next week."
Martin Broadhurst, Team Manager said:
"It's the first time we've run three cars at the same test day this year, so it was a nice moment to bring the whole team together, and to launch the livery for this season.
"We were a bit limited in our running during the morning session, and again for a period in the afternoon due to the weather, but at this stage of the winter, all testing is useful testing.
"We're straight up to Donington Park with Aron and Andrew for another day tomorrow, ahead of the opening round there next weekend."