CarStore PMR put in strong showing at in-season tyre test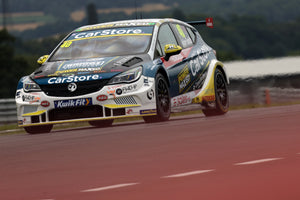 CarStore Power Maxed Racing showed a good turn of pace and collected valuable data during the Kwik Fit British Touring Car Championship's in-season Goodyear Tyre Test yesterday [5 July].
Ahead of the series' much-anticipated return to the full Grand Prix loop at Donington Park next month, the East Midlands venue welcomed the UK's premier tin-top category for a full day of running.
Andrew Watson, Aron Taylor-Smith, and Mikey Doble – who have already exceeded the team's 2022 points haul in just half of the current campaign – registered a total of 176 laps around the 2.4-mile circuit across over six hours of running.
Taylor-Smith was the best-placed of the three, the Irishman setting the second-fastest time of the day overall in the Vauxhall Astra, with Watson and Doble in P10 and P15 to round out a strong showing.
Even more notably, Taylor-Smith completed his best effort without having the TOCA Hybrid system active, which could be worth up to an additional three tenths of a second per lap when initiated.
The next stop for the trio is Croft Circuit, Yorkshire, for the next three rounds of the championship over the final weekend of July.
Andrew Watson (#11) said:
"A really good, productive day from my side of the garage. It's a great opportunity to get some extra laps, and to collect some data ahead of Donington GP next month.
"We went into the summer break on a really good note, with the Jack Sears win, so the aim is to come back at Croft in a few weeks and repeat that performance."
Aron Taylor-Smith (#40) said:
"This was definitely the most productive day of testing we've had so far this year. It's a circuit we've raced at already, albeit on the National circuit, but it's still given us a good baseline to build from.
"Without getting too technical and giving anything away, there are a few things we've been waiting to try until today, to give it the proper time and attention, and it's helped us unlock a new avenue in the Vauxhall Astra.
"To finish the day in second is always a nice little boost, and we didn't run with the hybrid system on board today, so as always, there's definitely more time to come in the car and from myself."
Mikey Doble (#88) said:
"As the others have said – a good, solid day, with plenty of mileage and a lot of information for us to take away and dissect.
"Donington GP is quite a special circuit, for me, as a lot of my big career milestones have happened here. It's always a pleasure to drive, and I've enjoyed wrestling it in a touring car.
"There are some things you can't really fit into a free practice session on a race weekend, so extra days like these are very useful as we keep moving up the grid."