CarStore PMR ready for final showdown at Brands Hatch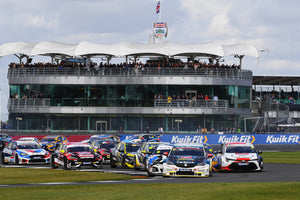 CarStore Power Maxed Racing is aiming to end the 2023 Kwik Fit British Touring Car Championship season with a final flourish – and another Jack Sears Trophy title – at Brands Hatch this weekend [7-8 October].
The iconic 2.4-mile Grand Prix configuration plays host to the traditional season curtain call for the UK's premier touring car championship, with Bidford-on-Avon-based PMR arriving as one of the 'in-form' teams after leaving Silverstone with another haul of silverware a fortnight ago.
Having spent seven years away from the outright podium, Aron Taylor-Smith's career renaissance continued with a second visit to the rostrum in as many meetings, and the Irishman even went within a lap of returning the Vauxhall marque to the winner's circle.
Andrew Watson's inspired gamble on the wet-weather tyres in a changeable opening race also returned him to the podium and went some way to establishing his 18-point lead over team-mate and closest rival Mikey Doble in the Jack Sears Trophy.
CarStore Power Maxed Racing are already among the prize's most successful teams, having won it on two previous occasions, and with Watson and Doble another 14 points clear of the next-placed car, it looks set to be a thrilling inter-team battle across the weekend's three races for the honours.
The team could also yet taste success in the Independent Teams' stakes, with a reduced 27-point gap to the championship summit after Silverstone; a similarly strong trip to Kent this time out could yet see the pendulum swing once more.
Brands Hatch has long been a happy hunting ground for the team in both configurations, too. Both the team's maiden victory, courtesy of Senna Proctor back in 2018 on the Indy circuit, and it's most recent triumph through Jason Plato in 2019 on the GP loop, have occurred in the 'Garden of England' and, based on recent form, a repeat showing is far from out of the question.
After the usual Saturday format of two practice sessions plus qualifying (15:40 BST), Sunday features three ITV4-televised races, at 11:30, 14:40 and 17:25 respectively.
Fans heading trackside can also meet the drivers in-person at Sunday morning's autograph session, with access to the pit lane from 09:00.
Andrew Watson (#11) said:
"I can't believe it's the last round of the season already! When I reflect back to the start of the year, we've learnt so much and achieved most of our goals already this season.
"I'm looking forward to getting to Brands Hatch, especially off the back of such a positive weekend for the whole team at Silverstone.
"Another podium for me, and a Jack Sears win, so that was brilliant. Obviously, I'm looking to go and lift the Jack Sears title this weekend, which would be incredible, but it's still very tight.
"The team are in high spirits and have been putting in some fantastic work behind-the-scenes. Brands GP is one of the great circuits, and I can't wait to tackle it in the Vauxhall Astra."
Aron Taylor-Smith (#40) said:
"We can definitely be feeling confident heading to Brands. The car is in the best place it has been all year, hence the results at Silverstone, and I firmly believe that it'll be even quicker around Brands GP.
"It's always been a track that has favoured me in the past – I took my maiden win there, back in 2012. So I go there full of confidence, and with high aspirations for what we can achieve.
"From the data and the on-board footage I've seen, the Astra looks phenomenal and I think we've progressed the car even further now than the reference point I've been looking at, so that's a really exciting prospect.
"To say I'm looking forward to it is an understatement."
Mikey Doble (#88) said:
"I cannot believe that we are already at the final round of the season. The Brands Hatch GP finale weekend has always been one of my favourite motorsports weekends of the season and to be on the grid is a true privilege!
"Coming off the highlight of my season so far at Silverstone with the pole position, I will be looking to beat that with a Jack Sears title win. We are 18 points back but as long as it's mathematically possible there's still a chance and anything can happen in the BTCC.
"The GP circuit at Brands should suit our Astra so we will be looking for another strong qualifying performance to set us up well for the races. This weekend cannot come soon enough!"
Martin Broadhurst, Team Manager said:
"It feels as though we have some real momentum behind the team at the moment. We've had two really strong weekends in succession, and everything from a performance perspective is in a good window.
"So, it's a good time for us to be heading to Brands, which is historically one of the car's best circuits. We've got a lot of fond memories here as a team, and I know everyone on the workshop floor and in the cockpit is determined to end the season on a positive note.
"It'll be great to watch Mikey and Andrew battle it out over the Jack Sears Trophy, and I wouldn't put it past any of the guys to see them up on the overall podium, too, which would be just be a really fitting end to a memorable season for the team."
Adam Weaver, Team Principal said:
"It's been such a fantastic season for the team, it's almost a shame to end it this weekend. We've hit a great run of form, and no doubt everyone will be pushing to tick off that elusive win before the winter break.
"Brands Hatch has always been a happy hunting ground for the Vauxhall Astra, so we know what a potent weapon it can be, in the right hands. We've got three very hungry, motivated drivers – two of whom are going for the same title – so we've definitely got all the ingredients for a successful weekend.
"I'll say it after the weekend, too, but a huge thanks to our superb team of partners. This year has been something of a renaissance for CarStore Power Maxed Racing after a few difficult seasons, and their support is a real driving force behind that."