CarStore PMR resume BTCC campaign at high-speed Thruxton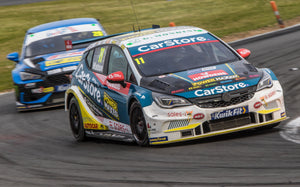 CarStore Power Maxed Racing will write the next chapter in its 2023 Kwik Fit British Touring Car Championship campaign at the high-speed Thruxton Circuit next weekend [3-4 June].
Having banked a solid haul of points on their most recent outing in the UK's premier tin-top series at Snetterton, the Bidford-on-Avon team make the journey south looking to close the gap at the top of the Independent Teams and Jack Sears Trophy standings.
Aron Taylor-Smith was among the stars of the live ITV4 broadcast last time out and will be looking to write similar headlines on a happy hunting ground for the Irishman in years gone by.
His team-mates Andrew Watson and Mikey Doble didn't quite get the opportunity to showcase their pace after a truncated qualifying session left them back in the pack, but both will be aiming to repeat their top-ten form from earlier in the campaign.
The 2.4-mile Hampshire venue, once an RAF base and still an active airfield to this day, offers one of the most daunting challenges for drivers on the ten-event BTCC schedule.
The team's three CarStore-backed Vauxhall Astras will spend around 80% of each lap at full throttle, with a top speed in excess of 140mph reached at the circuit's fastest points, as well as an average speed of over 100mph across the entire lap.
Two braking zones also offer plenty of overtaking opportunities, particularly on the long climb up Woodham Hill into the Club chicane at the end of the lap.
It's a layout that places an emphasis on a settled chassis, comfortable with rotating at high-speed, something the Astra has always excelled at. Recent results prove the theory, including a victory in the hands of Josh Cook and multiple podiums for the likes of Jason Plato and Rob Collard in years gone by.
But nothing is a given in one of the most hotly-contested BTCC campaigns in recent years. Qualifying kicks off the competitive action at 15:25 (BST) on Saturday, after two practice sessions.
Sunday features the usual triple header of ITV4-televised action, with lights out at 11:45, 14:35 and 17:20 respectively.
Andrew Watson (#11) said:
"After a tricky weekend at Snetterton, it's time to reset and go again. I'm looking forward to being back out in the CarStore Power Maxed Racing Astra at Thruxton, with the aim of getting back in the mix for the Jack Sears Trophy.
"Qualifying will be important to start us off on the front foot, and from there, it's a circuit I enjoy and I believe we can be competitive at."
Aron Taylor-Smith (#40) said:
"I feel as though we're finally into our groove, heading to Thruxton. We know what the car wants, what's working on it and I feel we're now going to a circuit that, historically, has been very strong for the Astra.
"I'm confident that we can going into this weekend challenging right at the front, and I'm a firm believer that this will be our most competitive weekend to date.
"I've always been fond of Thruxton, since getting my first BTCC pole back in 2015. For whatever reason, it's always been a good venue for me. I'm going there with more confidence than ever in what we can achieve, and the whole team at CarStore Power Maxed Racing are doing a superb job."
Mikey Doble (#88) said:
"I'm looking forward to going back to one of my favourite tracks in the country at Thruxton.
"I'm feeling very happy with what we've accomplished so far this season, and with the Astras strong history at Thruxton, I'm hopeful we can take things to the next level.
"Hopefully we'll have another dry weekend, and we can produce some more great performances and enjoy a good battle."
Martin Broadhurst, Team Manager said:
"Thruxton is a circuit that plays into the chassis capabilities of the Vauxhall Astra, but the competition has been so tough this season, so we can't rely on historical performances as any guarantee.
"We've continued to work hard since Snetterton to keep chipping away and unearthing a bit more performance, and the drivers are coming along really well too. Next weekend will be another step forward, I'm sure."
Adam Weaver, Team Principal said:
"As a team, we always look forward to Thruxton. It's a fantastic circuit, one that really puts an emphasis on bravery, not just skill, to get a lap time.
"We've had plenty of fond memories around there, and it would be great to repeat that, but nothing comes easy in the BTCC, and we'll need to be on our game from the get-go.
"Regardless, the racing around here is always a superb spectacle, and we can't wait to welcome our partners and guests trackside for a great weekend's entertainment."