CarStore. Power Maxed Racing hits the Track in its new colours.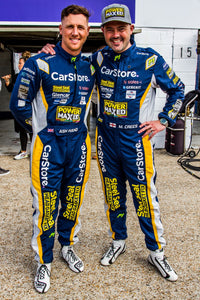 CarStore. Power Maxed Racing hits the Track in its new colours.
Yesterday saw CarStore Power Maxed Racing run its new livery at the busy Media day test at Thruxton, with all the fans there to welcome in the season, spirits were running very high on the back of the newly announced Partnership with Pendragon and it was great to see fans in attendance for the first time this year.
With the team welcoming many new partners to their existing stable of long-term partners along with two new drivers it was set to be an exciting but busy day.
In the morning the cars were rolled on to the grid for the age old classic photo with the class of 2022 photoshoot, there everyone got to discover the liveries of all the cars, grouped together for the first time.
Of course we are biased however, we believe, our 2 cars, driven by the talented Ash Hand and Michael Crees, stood out of the crowd with the new blue and yellow theme and would easily challenge for the best livery of 2022's grid. Many commenting on how beautiful the wrap was and how well designed the cars looks, which is a huge testament to our long standing technical partner; Joyce Design.
The test session started late morning however due to this being the first time all of the hybrid components were added and run on our cars, at first we had a few teething problems which meant a battery being switched and a few other changes delaying our drivers from getting straight out on track.
Once everything was in place and we got the green light from Cosworth, both Hand and Creesy were setting solid and consistent lap times and gaining the experience, which the test days are all about.
Unfortunately time was a little against us with several red flags meaning we didn't get to run the car with new boots on however we know with new rubber we would of made  over half of a second in the car and the driver's themselves still have a second or more in them, which will come with more seat time gained with time in the new cars and the pressure of a race meeting.
Kim Costello, Chief Marketing Officer for Pendragon, the power behind the CarStore brand said "It was incredibly exciting to see the cars out on track for the first time carrying our CarStore and Evans Halshaw livery, we are amazed to see what PMR have pulled together in literally a few days, if this is what they are capable of in this short time we are in for an amazing few years. Everyone at Pendragon is looking forward to seeing this partnership flourish"
Adam Weaver, CarStore Power Maxed Racing Team principal commented that "everyone has worked so hard over the last few weeks to pull this together, the cars looked stunning and the drivers and partners are happy so all we need now is the race results. I just want to thank everyone involved and pay particular thanks to the incredible members of the PMR team that have put in many late nights and weekends to get the cars ready."
Martin Broadhurst, Team Manager and Technical Director echoed the comments above adding
"As a team we are very happy with the overall result of the day and are confident next week at the Derbyshire track; Donington Park, we will find the times needed to make that opening weekend enjoyable and memorable for all."
For more images of Media Day please contact Dani@powermaxedracing.com