CarStore PMR kick off pre-season testing at Brands Hatch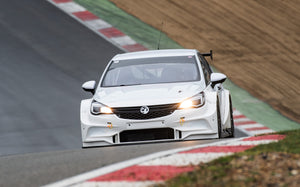 CarStore Power Maxed Racing stepped up preparations for the 2023 Kwik Fit British Touring Car Championship season with testing at Brands Hatch yesterday [21 March].
The visit to the Kent circuit's Indy configuration offered a first chance for Aron Taylor-Smith and Andrew Watson – both new to the team for this season – to get out in anger in their new Vauxhall Astra challengers.
Between them, the pair racked up a full day of running in their CarStore-backed machines, providing them, and the team's engineering staff, with plenty of mileage and data to work from as the team continues to build towards the season opener at Donington Park next month.
The team's third driver, Mikey Doble, will get his first chance to drive the car at Snetterton this coming Friday [24 March].
Taylor-Smith joins the team ahead of his ninth season in the UK's premier tin-top series, and believes the Vauxhall Astra has every chance of helping him add to his four career wins and 18 podium finishes to-date.
"We've had a mixture of all weather conditions today, a bit of damp and some dry running," explains Aron. "The car is being really responsive to the changes that we're making, and really, we're just working through everything.
"I'm starting to feel at home, and like we're at a point where we can start pushing on. The chassis feels alive, and I think for a first day of testing, it's been really productive so far.
"But the main thing for me is that everything is working. Everybody's on the same page, going through a proper programme, everything is very precise and very measured, and I think that'll stand us in good stead. The car is very close to what I want it to be already, which is a great starting point."
Watson is a newcomer to the BTCC grid for 2023, the 28-year-old's CV boasting a plethora of the world's most prestigious sportscar championships and events – including the Le Mans 24 Hours.
And at the end of his first day in the front-wheel drive Vauxhall Astra, the MB Partners-supported racer only has one thing on his mind; to get back out at Croft next week and continue building towards the season opener!
"It's been a great first day in the BTCC for me," says Watson. "The team is working really well, we got plenty of experience in the dry, mixed, and wet conditions, which helped us make plenty of changes with the car and some good steps.
"I'm feeling really comfortable in the Vauxhall Astra already, and next up for me is Croft next week where I'm sure we'll find plenty more learnings. Everyone's very positive and it's been a productive start."
Team Principal Adam Weaver and Team Manager Martin Broadhurst also offered their views on a positive start to the team's pre-season programme.
"It's certainly an encouraging start," says Weaver. "Really today was about bedding everything back in, cycling through our programme and getting Aron and Andrew up to speed with the cars, so to already be at the stage where we can use their feedback to make adjustments is very positive.
"The Great British weather certainly did us a favour in giving them plenty of laps in a variety of conditions, so it's given us a good foundation to build from across the rest of pre-season."
"What is also very helpful," adds Broadhurst "is to have Mikey here with us, albeit not in the car. The synergy between the three drivers is very important to help us fine-tune the car, and ultimately try to put us towards the sharp end of the grid.
"So, from an engineering perspective, today was a good baseline to work from, but it's also great to see everything coming together and gelling between the drivers, too. Their test days are split up on the schedule, but that cohesion means we can keep everybody on the same page and make it more of a joined-up effort."
Donington Park, Leicestershire hosts the opening three rounds of the 2023 BTCC season on 22-23 April.