CarStore Power Maxed Racing lift third Jack Sears Trophy title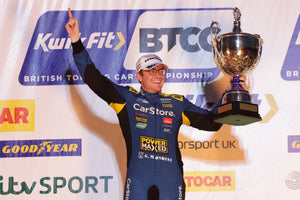 CarStore Power Maxed Racing celebrated a record-breaking third Jack Sears Trophy title with Andrew Watson at the final round of the 2023 Kwik Fit British Touring Car Championship last weekend [7-8 October].
The Bidford-on-Avon team arrived at Brands Hatch with the formbook on their side, having scored outright podium finishes and challenged at the very front at three of the previous four race meetings.
With Watson and team-mate Mikey Doble also comfortably clear in the race for the Jack Sears honours, the stage was set for an inter-team battle to claim the coveted prize aimed at unearthing the next generation of BTCC stars.
Qualifying swung the momentum in Doble's favour as he looked to reduce Watson's 18-point lead heading into the weekend, with the Kent racer turning in another great performance on Saturday afternoon to put his Vauxhall Astra ninth on the grid.
Watson kept stride with his championship rival to claim P13, with Aron Taylor-Smith – undoubtedly the star of Silverstone a fortnight prior – ensuring all three cars would start in points-paying positions with P15.
In the opening race, however, the race for the title took another twist. After holding his own against a host of the championship's leading names, and gaining a spot to eighth, Doble was shovelled off the road at Stirlings by another competitor, leaving him to impact the barriers head-on, and ending his race.
More so than the result, the crash also denied the team – and the fans – the chance to watch Doble and Watson battle it out over the remaining two races.
In Doble's absence, Taylor-Smith and Watson banked solid points for the team in P11 and P14 respectively, with the latter now just needing to finish the second race to wrap up the honours.
The UK's premier touring car category is famed for its interpretation of a 'non-contact' sport, and from the get-go in race two, Watson took no risks with the opportunity to seal the title on the line. Doble, however, went on the offensive, and climbed superbly through the order.
Gaining ten spots, the 24-year-old took the chequered flag put in a valiant effort to take P16 at the flag. Two places behind, however, was Watson, and he crossed the line to wrap up a record-breaking third title for the team and spark jubilant scenes in the garage and on the pit wall.
The result now moves the team clear as the most successful in the competition's history, cementing PMR's track record as a proving ground for the tin-top stars of the future.
Doble, however, would have the final word in a stellar season that has marked a real return to form for the team, and battled forward to score points in P14 in the finale. Watson started and finished P18, with Taylor-Smith P21, having had to retire earlier from the second contest with a puncture.
CarStore Power Maxed Racing also notably finished as runners-up in the Independent Teams Championship, with Taylor-Smith, Watson and Doble ending the campaign second, fourth and sixth respectively among the Independent Drivers.
The team will now switch focus to its winter testing programme, before reconvening at Donington Park in the Spring for the start of the 2024 season.
Andrew Watson (#11) said:
"To end the season as Jack Sears Trophy champion is just incredible. We have had such an incredible debut season, and to get this title is exactly what we wanted to do.
"Right from the very first conversation we had about me making the switch to the BTCC, winning the Jack Sears Trophy was the objective, so to get the job done is incredible. I might have had to play it down at certain points this year, but this means absolutely everything to me.
"It has been such a hard fight all season, so to come out on top makes it all the sweeter to be honest. Every race and every lap have been a fight with my competitors, it has been up and down," he added.
"This is definitely my biggest result and biggest championship win to date, so yeah, incredible – I am really, really happy. The team have done a quite amazing job and special thanks to my engineer Dan Rathmill – what a legend – my sponsors, my mum, my dad, and my sister. It really means a lot to me."
Aron Taylor-Smith (#40) said:
"It was a tough weekend, but in the grand scheme of things, and the season we've had, it means very little. We got unlucky with a few scenarios, but the fundamental performance of the car was in the right window, so that's all I'm concentrating on – the rest is part and parcel of racing.
"In general, though, I'm so proud of what CarStore Power Maxed Racing and I have achieved across the season. On a personal level for me, I feel like it's rejuvenated my career, and it's given me so much motivation to get something sorted to stay here long-term, and to keep building with this incredible team.
"It's cliché, but I'd love to give a particular shout-out to my partner network. Without them, I'd have to go and find a 'proper job', so I'm immensely grateful for their support. I'm not even referring specifically to the financials; it's been so rewarding for me this year to have passionate, like-minded people in my corner at every race event, and they've definitely helped me unlock that extra tenth to kick on up the grid.
"A huge congratulations to Andrew on winning the Jack Sears Trophy, and commiserations to Mikey for finishing second. There always has to be a runner-up, but he's proven himself to be just as capable as Andrew in his rookie year, and I know both of them will enjoy a good career ahead of them.
"Looking forward now, I'm keen to have a bit of a break and spend some time with my dog Archie, and our little family, but then it's full focus on 2024, and I hope to be back, continuing this tremendous programme we've started to build with the team."
Mikey Doble (#88) said:
"What a weekend to cap off a fantastic season. Sadly, once again, things did not go my way on race day, but I feel we have certainly proved now that we have genuine top 10 race pace.
"Once again, an awesome job from the team to put together a fast car for me this weekend. My thanks must go to Adam for believing and welcoming me into his team for this season and to Martin, Richard my engineer and the rest of the guys and girls who have dedicated so much time and effort into the year.
"I wish them all a relaxing and happy off-season before we all start looking into 2024!"
Martin Broadhurst, Team Manager said:
"It's always nice to end the season up on the Champions Podium, isn't it? In terms of race results, it was one of our tougher weekends, but we won't let that detract from a fantastic achievement on Andrew's part. Huge congratulations to him, and to Mikey for pushing the battle down to the wire.
"I'd like to say a huge thanks to all of our staff for what has been a really memorable season for the team. From the shop floor to the pit wall, everybody's put in an incredible shift, and cultivated a brilliant team spirit. It's laid some great foundations for us to keep building in the future.
"Whoever called it an 'off-season' was clearly joking, because we'll now take a quick break to reflect and identify where we can improve, then it's into winter testing and getting ready for next year."
Adam Weaver, Team Principal said:
"Above all, I'm so proud of what each and every member of CarStore Power Maxed Racing has achieved this season.
"It's no secret that we've had a few years trying to re-build after the pandemic, but what we've managed to create this year, both on-track in terms of car performance, and off it with the fantastic atmosphere in the team, is among the highlights of my time in touring cars.
"Andrew and Mikey have both driven excellently all year, and either would have been a worthy Jack Sears Trophy winner. As it is, congratulations to Andrew – and we can't wait to see them both kick on from here.
"It wasn't Aron's weekend, but in the context of the season he's had as a whole, we'll take that one and just look forward to the future.
"Lastly, a huge thank you to our fantastic title sponsors CarStore, and the rest of our dedicated network of supporters. Their support and investment in the team has helped us kick on to new height this year, and we look forward to continuing that process with their support in 2024."