DRIVER SPOTLIGHT: BTCC Development Driver, Jac Constable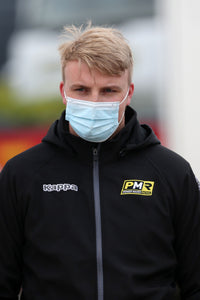 We caught up with Power Maxed Racing's BTCC Development Driver, Jac Constable, following his second ever front-wheel-drive race weekend in TCR-UK at Castle Combe:
Firstly, how are you feeling after your unfortunate bout of illness last year at Croft?
It's a hard feeling to sum up, but the disappointment in not making the race day at Croft has made me even more determined to get myself back on the BTCC grid for 2022.
Give us a bit of background on your career-what are some of the highs and lows?
I guess my ultimate highs were winning our class in the Dubai 24 Hours, and my Championship win in the Ginetta GT4 Supercup Am Class. Whilst there will always be disappointments in motor racing, I really don't consider them to be lows as there is always something to be learned from every experience. I've always tried to think of the challenges that present themselves over race weekends as learning curves, but there is no doubt that I've had my fair share of these in my racing career.
You've been announced as PMR's BTCC Development Driver, which is pretty cool-how did that come about, and what's it all about?
It all started with the BTCC race drive that PMR offered to me last year at Croft really. With the experiences that I shared with the PMR team during my one test day at Donington, along with the practice and qualifying at Croft, we seemed to gel straight away and I quickly felt at home - I had a really good feeling about things going forward. After missing the race day at Croft I was contacted by PMR Team Boss, Martin Broadhurst, who said that he would like to try and work with me going forward, and we tried everything to get a partner package together that would enable me to join the BTCC grid in 2021, to take the second seat alongside Jason Plato. The pandemic didn't help our cause in getting support for the 2021 race season, and I had to concede that I wasn't going to be able to bring everything together in time.  It was then that I was offered the Development Driver role, which was to be combined with my competing in the TCR-UK Championship for 2021, along with my presence in all aspects of PMR's BTCC programme. Along with my racing, there will be time spent testing the BTCC race cars as we progress our development programme. As you say, it really is pretty cool and I'm going to do everything in my power to make the most of this opportunity.
How are you finding the switch over to FWD after such a successful RWD career to date, and which do you prefer?
Whilst I have needed to adjust my driving technique to meet the requirements of a front wheel drive car, it has come easier than I thought. I wasn't far off the pace in my first outing in the BTCC Astra when testing at Donington and I guess that my preference for a race car with a bit of understeer has helped me.
In truth I have no favourite - I just love racing!
You didn't have the best time at Silverstone on your first outing, and Monday's event at Castle Combe was marred with bad luck. How d'you feel about the season so far?
Whilst the Silverstone weekend was not what I had hoped for in my debut round in TCR-UK, we win as a Team and we lose as a Team. The team sifted through the data and worked hard on the car between the two rounds, and that was evident in my pace throughout the day. We narrowly missed out on pole, crossing the line P2 in Race 1, although I was dropped to P7 after a slightly over eager start. We had some great running in Race 2, getting myself up to P3 by the first corner, and despite being turned around at Turn 3 I still mour race. The car feels great now I'm getting used to it, and the team have been super supportive. Hopefully we'll have some more luck in a few weeks at Brands Hatch.
You're tipped to be fairly involved in the upcoming documentary series that PMR are producing with FastR and Amazon Prime-how are you feeling about that?
We've already filmed the first round of BTCC at Thruxton and yes, I was asked to be involved as part of the PMR Team which I really enjoyed. I'm certain that all BTCC fans (and beyond) will enjoy seeing the workings of an elite race team, and I'm going to enjoy my ongoing contribution towards the series.  On a personal note, I'm also hoping that it may help me in my hunt for Partner Sponsors for my goal of racing in the 2022 BTCC Championship.
How much are you looking forward to getting back to racing with crowds at the circuits, especially now you're going to be joining PMR as part of the BTCC activities?
It will be fantastic to have the fans back, they are a huge part of every race weekend. Having been part of the BTCC package when racing Ginettas I've had first-hand experience of the buzz created by the thousands of race fans - it really is a one of a kind atmosphere out there. I'm excited by the prospect of my continued involvement within the team over the BTCC race weekends and getting to meet some of the crowds.
Give us an inspirational quote that you try and live by!
I'm seriously busy in my job and am always trying to find the right balance to ensure that neither my work or racing suffer, so my quote would have to be:
"WORK HARD, PLAY HARD"