High scorers CarStore PMR enjoy podium windfall at Silverstone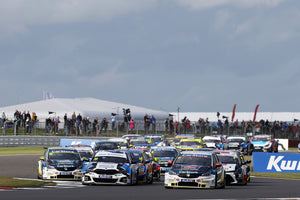 CarStore Power Maxed Racing enjoyed a hat-trick of visits to the podium and scored the most points of any team in the Kwik Fit British Touring Car Championship at Silverstone last weekend [23-24 September].
Having secured a stunning pole position courtesy of Mikey Doble the day prior – the first of his career – the Bidford-on-Avon team once again demonstrated the lasting potential of the Vauxhall Astra with two outright podiums, a Jack Sears Trophy win and an Independents victory in race trim on Sunday.
Drizzle greeted the UK's premier touring car category upon arrival at the 1.6-mile Northamptonshire circuit, presenting teams up and down the paddock with a strategy choice between the slick and wet Goodyear tyre compounds. But the drama would begin even before the lights even went out.
An error in communication from the team to Doble resulted in the 25-year-old rookie starting a second green flag lap in the mixed conditions, whilst the rest of the field formed up as normal on the grid. That meant he would have to start from the rear of the field.
From there, however, Doble produced an impressive comeback, cementing his status as one of the series' brightest emerging talents.
Having made steady progress through the field in the opening laps, the reigning Ginetta GT5 and BMW Compact Cup champion maintained enough performance in his slicks to benefit from a drying track surface later on in the contest, and duly stormed back to 11th.
Conversely, a wet-tyre gamble paid dividends ahead for Doble's team-mate Andrew Watson. The early tyre performance advantage helped the Jack Sears Trophy points leader soar through the order, including ten positions on the opening lap to run second.
Although he fell back to third after a dicey battle with Dan Rowbottom, Watson claimed the final spot on the podium to spark celebrations in the garage and on the pit wall with his second trip to the overall rostrum in three meetings.
Taylor-Smith fell back to the midfield early doors on slicks, but the Irishman rallied well later on to take seventh, a net gain of one position from his eighth-placed starting berth. It would then be his turn to star in another nail-biting second race.
This time, it would be ATS on the move in the opening laps, the 33-year-old rising to second behind Jake Hill. A problem for the BMW ahead left Taylor-Smith as the race leader, and he duly set about unleashing the car's performance to establish a 1.5-second lead.
A late-race safety car then wiped that advantage out, and left Taylor-Smith vulnerable to attack from behind. A last lap pass by Ash Sutton demoted Aron to second, but the result still marked his second podium in successive meetings and netted the team an Independent win.
Watson banked more valuable points with sixth spot, and Doble made it a hat-trick of points for the team in 15th, despite being run off the road at Luffield earlier in the race.
The trio then rounded out a productive weekend with another double haul of points in the reverse grid finale. Taylor-Smith led the charge in ninth, once again demonstrating his overtaking prowess. Doble claimed 14th to rescue a hat-trick of points finishes from a difficult day, with Watson 18th.
Notably, the net result of all three races also earned engineer Dan Rathmill a trip to the podium on the team's behalf to collect the Teams' award for the highest-scoring team of the weekend, in terms of overall championship points.
Taylor-Smith now stands on the cusp of breaking into the top ten in the championship standings, with a 12-point deficit to Rory Butcher ahead. Watson sits 14th, with Doble 19th.
Taylor-Smith also leads the way for the team in the Independent Drivers' standings in second, with Watson third and Doble sixth. CarStore Power Maxed Racing leave Silverstone having maintained second in the Independent Teams' standings, 27 points off top spot.
Watson and Doble will take their inter-team battle for the Jack Sears Trophy down to the wire at Brands Hatch in a fortnight [7-8 October], with just 18 points between them with three races to go.
Andrew Watson (#11) said:
"It's been a brilliant weekend. I'm delighted to have another overall podium, I got a great start in the mixed conditions and then it went from there.
"Race 2 was really solid, again, and between those two results, I really set myself up to get the Jack Sears win for the day.
"We struggled for pace in Race 3, so we'll need to dig deeper and find the issue, but it's great to have another Jack Sears win – that was the goal heading into this weekend.
"It all goes down to the wire at Brands Hatch! I have to say the team were fantastic this weekend, and all the podiums, Independent wins, Jack Sears, award for the highest-scoring team… it's testament to the work they're putting in, so a huge thanks to them."
Aron Taylor-Smith (#40) said:
"I'm beyond proud of what CarStore Power Maxed Racing and myself have achieved this weekend at Silverstone.
"Podiums are a bit like buses, it seems – you wait for one, and then two come along in quick succession! This has always historically been a strong circuit for the Vauxhall Astra, and the team did a fantastic job to put it in a good window for me to be competitive this weekend.
"I think that second race might put me on the cover of 'Almost Magazine'! It was a great fight with Ash, and although there's always a little tinge of disappointment in finishing second, for me it's another great signal that we're heading in the right direction with this car and the package.
"It was also great to welcome so many of my wonderful partners and their guests to Silverstone this weekend. Their support is always felt so strongly by myself and the whole team, but it was great to have them all here in person and to celebrate the podium finish together.
"Overall, I'm feeling very satisfied with the weekend, and looking forward to Brands Hatch to finish the season on a high note."
Mikey Doble (#88) said:
"I'm not sure how to put into words the mixed emotions we are feeling coming away from Silverstone. It was a perfect storm unfortunately with the mixed weather conditions leading into Race 1, that an unfortunate mistake would result in me taking a second green flag lap.
"We fought hard to come through the field from last to 11th in race 1, followed by some fraught midfield battles in races two and three resulting in two further points finishes.
"I hope moving forward the events which occurred today will not overshadow the remarkable achievement for me and the team of scoring a pole position in my rookie season, a stat which no one will ever be able to take from me.
"We are still very much in the hunt for the Jack Sears title and there couldn't be a better venue to bring the curtain down than Brands Hatch GP, we will be going into Brands fighting as hard as ever. Thanks must go once again to the team for all their hard work and efforts and to my friends, family and sponsors who came to support me."
Martin Broadhurst, Team Manager said:
"It's definitely a day of mixed emotions, but on the whole we can be very happy with the results across the board.
"Andrew and Aron continue to go from strength to strength at the moment. To get a podium for each of them is tremendous and extends the fantastic record we have here at Silverstone with the Vauxhall Astra.
"As a team, we've apologised to Mikey – it was our error, and mistakes happen in this sport. But that said, I think his stock as a driver has risen so much within the paddock this weekend, not just in getting his first pole yesterday, but also in how well he battled back today to score three points finishes, and that's credit to him.
"We've got two weeks now to regroup and get ready for Brands Hatch, where we'll be aiming to end the season on a high."
Adam Weaver, Team Principal said:
"There's never a bad day to be heading home with four trophies for the cabinet, and it's a just reward for all the hard work and commitment the team have been putting in to keep this recent momentum going.
"On another day, Aron would have won that second race, but for that safety car period. He defended so well, and deserved more, but it was a proper motor race and we're thrilled with another podium. The same goes for Andrew – he made a good call on tyres for the first race and reaped the rewards of that.
"Of course, today is tinged with some disappointment for Mikey. We've held our hands up there and undoubtedly there are lessons to learn. But as Martin has said, full credit to him for digging deep and battling back to limit the damage.
"Personally, I'm really looking forward to watching Andrew and Mikey battle it out for the Jack Sears Trophy at Brands Hatch in two weeks' time, and to the team ending the 2023 season on a positive note.
"Thanks to all our of partners for their unwavering support – hopefully days like today are a just reward for that, and it was fantastic to see and share today with so many of them – over 200 guests and VIPs – trackside."