Hot and Frustrating weekend at Snetterton for CarStore. Power Maxed Racing.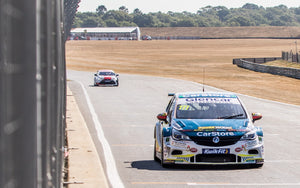 Hot and Frustrating weekend at Snetterton for CarStore. Power Maxed Racing.
CarStore Power Maxed Racing headed to sun scorched Norfolk for rounds 19,20 and 21 of the BTCC.
Everyone was in good spirits having had a successful 2 day test at Snetterton several weeks prior.
The sun met us on arrival at the track on Saturday morning with the temperatures already higher than a standard summers day. The drivers and the team consuming plenty of water in anticipation of the heat of the day ahead.
Free Practice began and the pace of the field was fast but we were in contention with both drivers setting competitive times consistently lap after lap.
The feedback from the drivers was fantastic and many adjustments were made on the CarStore Power Maxed Racing Astras to give the drivers what they were after and these were then put to practice in FP2 and as expected we improved again. With Hand coming in from FP2 in P6 and Crees P12.
We believed there was a bit more to come from the cars but knew that all the teams running engines other than the M-Sport developed TOCA engine would go even better in qualifying with their limited running qually maps installed. However we were confident of still getting in to the top 10 with both our drivers.
What happened was not what we expected, the performance found by these other engined cars was quite literally astounding.
For example Michael's time in qualifying was almost a second faster than his Fp2 time that had him 12th - in qually this was then only good enough for 18th. Both drivers drove nye on perfect laps, hitting their braking points and apexs perfectly, there's just no way we can find over 1.5 seconds in the driver or the chassis combined.
Yet another really late night for the team ensued to make sure we extracted every little bit we could from the cars and drivers to get us ready for battle on Sunday.
Sunday again started with bright blue skys and soaring temperatures as 1000s of fans were arriving early to secure their best vantage points for the action packed day of racing ahead.
With all the BTCC formalities done it was time to take our positions for the start of race 1, sadly towards the back end of the grid in 17th and 18th.
Both drivers got a great start and began to make progress. Ash opted for the outside of the first corner but Crees got stuck behind a sideways car as Ash made up a phenomenal 8 places. As Hand battled throughout the race eventually securing 13th at the line, unfortunately Crees suffered the failure of an oil pipe ending his race early.
With the Crees car fixed and ready for action it took its place at the back of the grid for race 2 as the Hand car lined up in 13th, the finishing position of race 1.
Lights out and battle commenced. Ash working his way to 10th as Crees fought his way to a very credible 21st, actually hampered by a safety car and a failing car in the safety car train not pulling over, creating a massive gap to the pack ahead. Had this not been the case it's very likely a points finish in 15th would of been on the cards.
Hand was therefore in contention for a reverse grid pole, unfortunately his Clio Cup days arch rival Ash Sutton's number was drawn meaning Hand would start where he finished in 10th. We still felt with many Championship contenders ahead, he could race to a great result as with some pressure they'd likely concede to his attack and bank the guaranteed points rather than risk race ending contact.
Both drivers got a great start, Crees in particular as through no fault of his own he jumped the start. The launch procedure requires you to hold the clutch in and then a button to hold the revs as your throttle is flat to the floor. With the extreme heat of the day and an unusually long hold time on the lights, the clutch began to slip and the car crept forwards. This meant he received a drive through penalty negating his hard work from race 2 and relegating him to the back once taken.
Ash Hand began to push from his starting position of 10th a drive shaft let go ending his race prematurely. Whilst the parts are monitored and "lifed" and this was well within our usage parameters we can only assume that the significantly high track temperatures this weekend have increased traction beyond normal limits and this has put additional strain on the part.
Adam Weaver, CarStore. Power Maxed Racing Team Principal said
A very hot and tough weekend. I'm in awe of every driver and every mechanic in the paddock, I just can't comprehend how they've done what they've done this weekend. Then there's the Marshalls in the orange suits and very little shade so a big thanks to them all.
Amongst the issues there are some big positives to take from this weekend, we have got to put pressure on our engine suppliers so we can compete in qualifying. We show every weekend we have pace to be in the top 10 but the lads have to climb mountains to get there on race day, imagine what we could do if we qualified there!
Martin Broadhurst, Team Manager and Technical Director added:
First and foremost the team did a great job in the extreme conditions this weekend, working relentlessly to deliver the cars ready for the drivers to take to the fight. The drivers also did a great job in coping with the extreme temperatures in the cockpit.
Qualifying was a struggle as we are battling the ongoing engine parity when it comes to putting in the ultimate lap. Ash had a very solid day on Sunday but a disappointing failure for us caused a DNF in Race 3 when we were running in P10.
A mixed day for Michael, an Oil leak in Race 1 following contact with a tyre stack, a drive through penalty for a jump start in Race 2, and then having to start from the pitlane in Race 3 due to a failed
starter motor just before we were due to leave the pits for the race start, all made for a pretty disappointing day to be honest.
The team is focussed and the cars will be turned around ready to push hard again at Thruxton in two week's time.
Michael Crees stated:
We always new that Snetterton was going to be tough with the disparity between our TOCA engine cars and those running their own engines, whilst my results didn't show it, the car was mega, think the chassis is great and im driving well, we had pace to live with people running at the front, all of this backed up by Ash running around the top 10 all day. Im very positive heading to Thruxton, I think we could have a very strong end to the season.
Ash Hand said:
I was very happy to make it from 17th to 13th in race 1, then up to p10 in race 2, gutted I didn't have a bit more luck when the balls were drawn for grid position in race 3 but was looking forward to my race from 10th in race 3, unfortunately the mechanical failure stopped me from being able to progress any further. If qualifying can be more equal across all the engines in the championship then im confident we can get on or certainly near a podium on race day – and don't we all need it