Jac Constable completes Power Maxed Racing's TCR lineup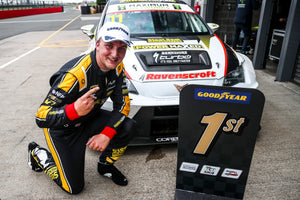 Jac Constable completes Power Maxed Racing's TCR lineup
Ahead of this weekend's opening rounds of the 2022 TCR UK Championship, Power Maxed Racing has confirmed that twice 2021 race-winner and team Development driver; Jac Constable will return for his second season. Supported by Ravenscroft and Power Maxed, he will be reunited with the same CUPRA TCR he drove last year.
Having crowned his first TCR UK campaign with race victories at Oulton Park, winning by a huge 9 seconds at the Island configuration circuit in July and the season finale at Donington Park in August, Constable intends to put his experience and great knowledge to good use when the championship kicks off around Oulton Park's International circuit this Easter weekend.
Working together with Power Maxed Racing, who are vastly experienced in the running of CUPRA TCRs and who have worked extremely hard over the winter months preparing for this weekend's 2022 TCR-UK Championship campaign, the Hampshire-based 24-year old will be joining teammates Russell Joyce, Chris Wallis and Callum Newsham.
Constable is aiming to build on his previous achievements and podiums whilst he'll be joining a far larger and more competitive grid this season, he is regarded as 'one to watch' this year.
Jac Constable shares 'My involvement in last year's TCRUK Championship gave me my first opportunity to race a front wheel drive car and it proved to be a huge learning opportunity for me. I was fortunate to have the strong support of the Power Maxed Racing Team and I'm looking forward to resuming our collective efforts to bring a competitive car to what will be a super-sized grid for 2022. Keep your fingers crossed for us!'.
Martin Broadhurst, Team Manager states 'We are very happy to welcome Jac back to the team, he is a strong, competitive driver with a wealth of knowledge. He is a true team player, and we have no doubts this year he will be stepping on the podium through the season.'