Joining the PMR eSeries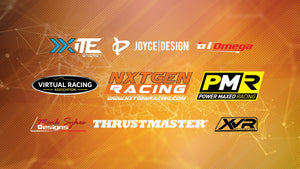 So, you want to race in the PMR eSeries Powered by NXTGEN?
First off, you'll need a PC, with a copy of iRacing. In order to be competitive, you'll need a "sim" setup, comprising, at the very least, a steering wheel and pedals. If you don't have these then don't worry, because we'll be announcing a number of console-based leagues very soon.
Once you've got iRacing, you'll need the Audi RS3 TCR car. This is what we'll be racing in, and, if you're lucky enough to make it into the championship, you'll be allocated a livery based around our Partners.
The Championship will be split into a number of "Tiers", with the fastest Qualifying drivers in the Premier Tier, which is where most of our pro drivers will be, and then going down from there.
To be in with a chance to race alongside some of the best sim racers around, with real race drivers from various elite level motorsport disciplines, including the BTCC, WEC and Porsche Carrera Cup, you are invited to qualify based on all the details below.  
If you qualify within the top 250 times, you will be eligible to compete in allocated tiers based on your best lap time; but, if you're really quick, you may get in the Premier Tier with the pros!
The Qualifing round will be held on Wednesday 22nd April from 8pm GMT, with the first round of the series starting on the following Wednesday 29th April.
To join the Qualification Session, simply look for any of the iRacing NXTGEN Qualifers Servers, that will go live from 20:00hrs on the 22/04, but don't be later than practice or you will miss out! There'll be a step-by-step guide on how to do this over the next few days.
Championship details
 Qualification round to establish the top 250 DRIVERS will be on Wednesday 22nd April. Server goes live at 20:00hrs GMT for 30 minutes practice & 4 laps Qualifying (this is the max the session settings will allow)
Circuit Conditions:
Time of Day – Noon
Track Temp – 26C
Humidity - 55%
Wind - North 2m/r with clear skies
 A fixed setup will be issued prior to above date to allow some testing/practice
 Please note you may use any livery you wish for the Qualification Session only.
 Note - you must be in the server/session prior to practice finishing, or you won't be able to Qualify!
 Tier allocation confirmation and league series invites/instruction (subject to qualifying in the top 250) will be communicated w/c 25/04/20 (Please note tier/room sizes are maximum 30 drivers)
 Series begins with Round 1 – Wednesday 27th April 20:00 BST – all subsequent rounds then follow every Wednesday evenings from 20:00 BST
Round Format:
20 minutes |Practice (Tiers/sessions live from 1940hrs GMT)
15 minutes Qualifying
Race 1 – 20 minutes long
15-20 minutes break to allow reverse grid setup on Race 2 session
Race 2 – 10min Practice (to allow drivers to re-enter the session/tier)
20 minutes long with top 10 from Race 1 result in a reverse grid
Car – Audi RS3 TCR with pre allocated liveries (sorry no personal/club/team liveries allowed)
Calendar:
1: Donington Park National – 29th April 2020
2: Brands Hatch Indy – 6th May 2020
3: Silverstone National – 13th May 2020
4: Monza GP – 20th May 2020
5: Oulton Park Island – 27th May 2020
Mid-season break week commencing 3rd June 2020
6: Snetterton 300 – 10th June 2020
7: Catalunya – 17th June 2020
8: Lime Rock Park – 24th June 2020
9: Silverstone International – 1st July 2020
10: Brands Hatch GP – 8th July 2020
Setups will be fixed but a base setup will be applied to all cars.
Round specific setups will be released/made available for testing prior to qualification/races.
Penalties & Damage:
Damage will be on, along with penalties based on - 20 points receives a drive through and a further 10 after would receive another drive through. There will be no fast repairs during the race.
Driving Standards/Incidents:
All drivers are expected to race hard but race fair and respectfully and adhere to NXTGEN rules of racing which can be found pinned to the main page of our group on Facebook & the website.
Should you be involved in an incident and wish the stewards to review, please save a short replay of the incident along with a brief description and send privately to any of the NXTGEN admin team via Facebook Messenger or other channels of social media who will pass onto an independent stewards group.
Prizes:
Multiple prizes from the likes of Motordrive, Worxs and Power Maxed are up for grabs, and will be announced very soon. There's also the opportunity for a potential test for the winner, with the car run by PMR...