Joyce Design remains Carstore Power Maxed Racing graphics partner for a 7th year.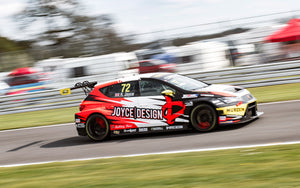 Joyce Design remains Carstore Power Maxed Racing graphics partner for a 7th year.
Carstore Power Maxed Racing are delighted to count vehicle branding experts Joyce Design as one of their trusted partners once again for the 2022 season. . In true Joyce Design fashion, they delivered a brilliant and rapid car livery for the team, combining over 30 partner logos on each car within a 72 hour turn around.
 Based in Chelmsford Essex, Joyce Design are one of UK's leading fleet graphics specialists. A 3M Gold Select Partner, ISO accredited and with dedicated account managers, they deliver a premium service to small, medium and large fleets UK-wide, supported by best-in-class vinyl, processes and warranties. Finding solutions for fleet managers is at the heart of their business and they apply the same level of care and attention to our race graphics, which is exactly why we at PMR are so pleased to have them on board for a 7th year running.
The forever growing partnership with Joyce Design is one we cherish at PMR and this year with a later than normal title partner announcement in the British Touring Championship the Joyce Design team had their work cut out however delivered outstanding work, in record time which is why we appreciate them and the partnership.  
 Over the seven year partnership we have collaborated on a few projects including our previous VW cup cars and now our current TCR championship cars which includes an extra four race cars on top of the famously known BTCC cars.
 Adam Weaver, Team Principial shares: "We are extremely happy to continue to grow our partnership for the 7th year. Russell and his team are a joy to work with and always deliver exceptional work for us here at Carstore Power Maxed Racing. Thank you to everyone at Joyce Design and excited to have you onboard for all the championships we race with but especially the Kwikfit British Touring Car and the start of the Hybrid Era."
 Managing Director Russell Joyce says: "We put a lot of energy in understanding our customers' needs and ensuring we have everything lined up to deliver competitive and high-quality graphics, from design, manufacture and install and working with premium brands such as 3M. The vehicle fleet graphics industry is our core business but my love for motorsport naturally led us to get involved with racing teams. We are now proud to have made our mark in the paddock at various levels including BTCC and TCR. Working with top-flight racing teams PMR means complex designs, challenging deadlines and fast turnaround of graphics for damage repairs but that's what our team is trained to do…It's just a little different to see our designs whizzing round racetracks on national TV rather than busy British motorways!"
For more information on how your company could benefit from Joyce Design's expertise in vehicle graphics, fleet or motorsport, visit www.joycedesign.co.uk or email enquiries@joycedesign.co.uk