Joyce to Continue Volkswagen Racing Cup Campaign with PMR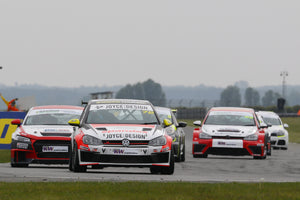 Russell Joyce has today announced his intention to enter his fifth consecutive year in the Volkswagen Racing Cup. After finishing 7th overall in 2019, the Chelmsford-based driver, who has campaigned with Power Maxed Racing throughout his time in the championship, will pilot his Mk7 Golf for the third season.
Joyce, owner of award winning vehicle graphic designers Joyce Design, is well known in the motorsport world for his work within the BTCC, amongst other high profile championships. His 2019 campaign saw him narrowly miss out on multiple podiums, whilst not dropping out of the Top-10 all season. At the end of the year, he was awarded the highly coveted Hankook Trophy, for most points scored without a podium finish.
PMR are best known for their multiple race wins in the BTCC, and use the same engineers and equipment for all other race series they are involved in, including the Volkswagen Racing Cup.
Martin Broadhurst, Team Manager – "We have an excellent relationship with both Russell and Joyce Design, and are looking forward to another season with him. We've watched his results improve year-on-year, and between us are feeling positive about what's to come. Using skills transferred from the BTCC programme, Joyce's Golf has undergone extensive development over the winter, which should yield some great results over the coming season."
Russell Joyce – "Having come so close to the podium last year, I have unfinished business and am determined to stand on the top step his year. PMR have worked hard over the winter to make sure my car is ready to fight from the off, and I'm confident that the hard work will be worth it. The VW Racing Cup is one of the best championships in the UK, and I'm really looking forward to getting stuck in again this season."