Mikey Doble: "It's like no other car I've driven"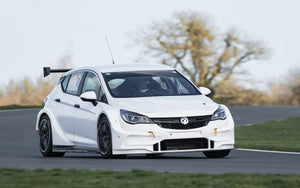 CarStore Power Maxed Racing's Vauxhall Astra left a big impression on newcomer Mikey Doble after his first test ahead of the 2023 Kwik Fit British Touring Car Championship.
The reigning Ginetta GT5 and BMW Compact Cup champion travelled to Snetterton's 300 circuit in Norfolk for his first laps in anger behind the wheel of his new BTCC challenger, as he prepares for his biggest career challenge to-date.
Gaining crucial mileage and experience in a range of conditions, the Fewkes Sport Management-backed racer has already started to bond with his new machine, despite a steep learning curve ahead.
"My first day with PMR in the Vauxhall Astra went very well," says Doble.
"I was starting from scratch as this was my first test in a front wheel drive and left-hand drive race car. There was plenty to get my head around initially, even down to using team radio and learning the various controls and displays, however I got to grips with all of that by the end of the morning so I could then focus on the driving".
The step up to the UK's premier tin-top series is the realisation of a dream for third-generator racer Doble, having aspired to race in the BTCC for almost two decades.
For the 24-year-old, the key between now and the season opener at Donington Park on 22-23 April is to continue acclimatising to his new surroundings and build up his confidence before the action begins in earnest.
"I was fortunate to get some wet and dry running in which I learnt a lot about the characteristics of the car, but the key for me improving was to learn to trust how great the car is. The grip it offers, and braking performance is out of this world, it is like no other car I have driven before.
"Now I have a full day's testing under my belt and have reflected on where I can improve, I cannot wait to get back to it with the team for some more testing at Donington this week."