Morgan Re-joins PMR for 2021 TCR-UK Challenge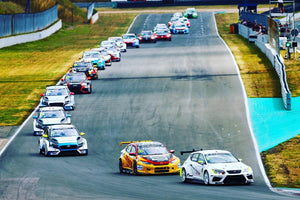 This weekend sees the fourth round of the Goodyear Touring Car Trophy, incorporating TCR-UK, at Cheshire's Oulton Park. The event will form part of the prestigious Time Attack calendar, with the popular "Tunerfest North" taking place at the picturesque circuit, bringing TCR in front of thousands of car fans.
It will also see the return of TCR Europe race winner, Alex Morgan, to the championship. Morgan saw off competition from the likes of Josh Files and Tom Coronel to take his maiden win in the European series at Oscherlseben in 2019, before joining PMR for the final race of the UK series that season. The Welsh-born racer scored a double podium in his Renault Megane RS TCR at Donington Park, despite the season finale being the cars first and only UK outing with PMR.
Morgan will be joined by PMR regular Dan Kirby, who took his first series victory at Brands Hatch just a few weeks ago, PMR's BTCC Development Driver Jac Constable, and rookie circuit racer Will Butler. All 4 drivers will be campaigning identical Sequential Cupra Leon TCRs, and will be looking to capitalise on the testing taking place tomorrow (Friday 16th July).
The Hyundai i30N TCR of former Volkswagen Racing Cup driver Chris Wallis will not be racing at Oulton Park due to ongoing parts issues.
Alex Morgan: "I'm absolutely delighted to be returning to touring car racing, and to be rejoining PMR for this weekend's TCR UK race at Oulton Park. My last race was in October 2019 with PMR, and so it'll be great to get back on track with the team, and to build on the success at our last outing. I'm very familiar with the Cupra Leon TCR car and so I'm hoping we'll be mixing it with the front runners from the outset. Oulton Park is a fantastic circuit where I've had good success in Clio Cup UK previously, and so I'll be aiming for two good results in Saturday's races."
Fans can watch the TCR-UK live stream on Saturday on the series' Facebook and YouTube pages. Qualifying takes place between 10:50 – 11:05, with Race 1 scheduled for 13:35 and Race 2 for 16:00.