New Pro & Sim Championship Results for Premier Tier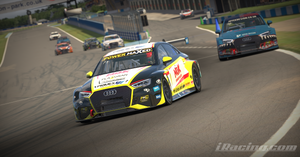 It's safe to say that the first round of our eSeries can be labelled as a success. More than 12,000 of you tuned it to watch it live last Wednesday, and more than that again have checked it out in the week following.
The 40 identical cars, all resplendent in PMR Partner liveries, battled for the top spot across two twenty-minute races. There were crashes, contact and a whole raft of overtakes, creating an awesome spectacle for the thousands of spectators.
With so many professional drivers involved, including the likes of Jason Plato, James Calado and Yann Erlacher, it was only natural that more than a hundred of the world's fastest sim-racers would vie for the 15 available spots in the Premier Tier, meaning only the best-of-the-best would make the grade.
As we expected, the highly experienced sim racers were quicker than their real world competitors. "That's ok" we thought, "we'll simply introduce a success ballast system to make it fairer." Unfortunately, that's a no-go in iRacing, and there's simply no way to differentiate performance in there. So, after some feedback (thanks Dave Newsham), we came up with the idea of separate Pro & Sim tables.
The racing will stay exactly the same, with the same overall race results and championship tables, but now with them broken down into Pro & Sim results. The racers will still score points for their over all race finishing position, but crucially, both sim & pro drivers will have their own points calculated in their individual tables. This means there will be some even greater battles, as not only will people want to finish as close to the front as possible, but score as many points as possible in their own class.
As the results stand, this is how it all looks:
Max Coates, Mini Challenge Driver - "The sim and pro classification within the PMR eSeries allows fans watching, and us driving, to distinguish between experience levels in simulator racing. Driving on the simulator uses a range of the skills we use in real life, but to get the last few tenths, needed in a series this competitive takes time and experience to build. In much the same way we wouldn't expect a sim racer to jump in and win the BTCC in their first season, the pro's are not expecting to win the PMR eSeries in our first year either."
Jamie Dorey, NXTGEN: "We have split the results due to the deficit between real world and sim drivers.
The reason behind it is due to keeping everyone involved motivated to battle in individual championships as well as an overall. The real world and sim drivers can fight against one another to claim bragging rights.
We also do have the overall championship that everyone is entered for to gather an overall perspective."