Newsham Returns to Power Maxed Racing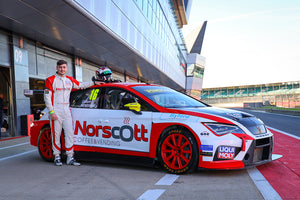 Power Maxed Racing has today announced that the Newsham name is returning to the team for 2022. Callum Newsham, son of veteran British Touring Car Championship racer Dave, is to join the Warwickshire-based squad for their 2022 TCR-UK Championship campaign.
Newsham-junior has campaigned the last 3 years in the highly competitive Mini Challenge's top-level JCW class, bagging himself a number of podiums, a fastest lap and a pole position in the process. The 22-year-old is feeling positive about his step into the burgeoning TCR world, citing PMR's success in 2021 as only part of his decision to go with the team:
"I'm super excited to get my 2022 TCR UK season underway. It's looking to be a very competitive year, and I'm looking forward to the challenge! My experience in the Mini JCW Challenge will definitely help me get up to speed quickly, and I'm aiming for podiums from the get-go.
"We will be teaming up with Power Maxed Racing, which will be very nostalgic for us, as my Dad raced with them in BTCC in 2015/16. They are a successful team, and with them around us, I don't see why we won't be at the sharp end from the off."
Dave Newsham is no stranger to the team, having raced with them in the BTCC in the team's inaugural year in the championship, 2015, with a number of Top-10 finishes secured throughout the season. He would also step in for Fletcher for 2 rounds during 2016, and is excited about working with his old crew once more:
"Callum has only ever driven one race car, his Mini JCW, so the time was right for us to move to another formula to continue his development. I've been keeping my eye on TCR UK, and the series is really gathering pace. So we've taken the plunge and purchased a Cupra Leon.
"I didn't have to look far for a team to run the car, Power Maxed Racing are there, and I am delighted to announce we will be joining them for the 2022 season. I didn't talk to any other team, it had to be PMR, and I really could not wish for a better team to run Callum. I have fond memories of my time with the team in 2015/6- it's a great setup, and they are friends. Callum is in great hands!
"My aim for next year? I think Callum is capable of podiums for sure. He has proved to be quick when everything is working for him, and he is a clean and respected driver. I also believe the TCR car will suit his driving style.
"We are in TCR UK for the foreseeable future, so let's see if we can win this thing!"