PMR Announce 2020 Driver Line-Up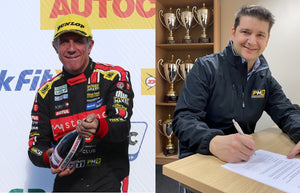 Power Maxed Racing have today announced their long-awaited and much anticipated driver line-up. The Warwickshire-based team have been conspicuous in their silence since the end of the 2019 season, as they worked intensively to secure what is, based on statistics, their best driver pairing to date.
Coming as little surprise, former multiple Champion Jason Plato, the most successful BTCC Driver in History with 98 career victories, who piloted one of the team's Vauxhall Astras to a spectacular victory in probably the best race of 2019, remains with the team for 2020. The Oxford-based driver, who'll be starting his 23rd BTCC season this year, waxed lyrical about the quality of the car and team during the 2019 season, ending the year on a high with a convincing win in the final race of the year at Brands Hatch.
Jason Plato will this year be joined by another extremely successful fans' favourite, in the form of multiple championship runner-up and race winner, Mat Jackson. The Warwickshire-based driver temporarily hung up his gloves 2-years ago and has been the talk of many rumours of a return to the series ever since.
Mat Jackson - "I may have been away from the series temporarily, but thoughts of winning the BTCC were never far away. I have unfinished business and it was critical for me to return with a top team, capable of mounting a consistent title challenge. I have received a number of offers during the last two years, but Adam has worked tirelessly to make my return possible with PMR. The team continues to grow in stature, and I have no doubt that they are the team I need to be with, so when the opportunity came to join them and partner with JP again, I was not going to miss out."
This will be Jackson's 13th season in the UK's most popular championship, and with a number of podiums and exciting race wins taken, not to mention finishing 2nd in the championship multiple times during his years of racing in the top flight, he'll be aiming to deliver top of the podium results from the off.
Jason Plato - "It has been a while since I was this excited for the start of the season. I genuinely love my team at PMR; they work unbelievably hard to provide me with the very best car, but also have a lot of fun doing it; it's a great place to be. Adam and Martin have put a very special group of people together that are focused on winning the championship, whilst sensibly making sure they are also building a stable future in the sport. This all helped me get my mojo back in 2019, and I want to reward them all with plenty more race wins. They will be the team I hit 100 wins with, I have no doubt!" He also went on to say "I am sorry to see Rob leave, as last year was fun, but at the same time I'm very happy about working with Mat again, and really look forward to seeing what we can achieve by working together"
Adam Weaver, PMR Team Principal - "There are very few people out there who truly know how hard this BTCC game is. It takes a tremendous amount of effort to do the job well; it's way past stressful, consistently makes me question my decision making and breaks me on a regular basis. However, this Driver line up alone makes it all worthwhile. It's obvious that this is statistically our best pairing to date, and with the engineering team making the car better each year, we certainly intend to be challenging for a championship win this year."
The team will enter yet again with Manufacturer backing. With the Vauxhall partnership going from strength to strength, Vauxhall are set to not only continue but to increase its support of the team this year. With all this combined, Power Maxed Racing are sure to be a team to feature heavily in 2020. More news on this partnership and other partnerships to be released in the coming days and weeks.
The driver pairing will make their debut at the upcoming public test day at Silverstone on March 17th.