PMR Announce Multi-Year Partnership with Kappa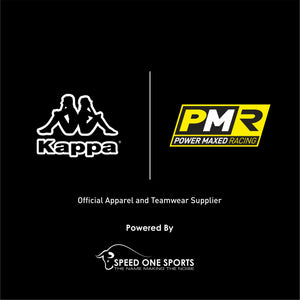 Power Maxed Car Care Racing have today announced a multi-year Partnership with sports fashion brand Kappa. The deal will see all Power Maxed branded apparel and replica teamwear manufactured by Kappa for at least the next 3 years.
The Italian brand were founded in 1978, and since then have supplied team wear and apparel to some of the world's largest sporting institutions, including AS Monaco, Aston Villa, Manchester City and the Alfa Romeo Racing F1 team.
The newly formed partnership will see fans able to purchase a more extensive range of Power Maxed Car Care Racing apparel than ever before, with a number of limited edition and more classically branded products joining the replica teamwear range. The full selection will be available soon through both the Power Maxed Car Care Racing website, and trackside through Power Maxed's pop up articulated truck store, affectionately known as Optimus.
The Partnership sees the introduction to professional motorsport of Birmingham-based Speed One Sports, who are Kappa's long term sports supplier within the UK. Speed One will be supplying the full range of Power Maxed Car Care Racing's Kappa team wear and branded apparel until at least 2023.
Adam Weaver, Power Maxed Racing Team Principal – "We feel massively privileged to have put together such a fantastic deal with a brand as prestigious in designer leisurewear and as prolific in elite level sport as Kappa. As an Aston Villa fan, I already own a number of branded Kappa products and have been blown away with the quality. It's also a massively nostalgic brand for so many fans, and I'm excited to be bringing such a huge name into the paddock."
Craig Miller, Kappa UK Teamwear - "Kappa are delighted to announce that we are partnering with Power Maxed Racing as the Official Apparel and Kit supplier, which will be powered by Speed One Sports. Entering a new sport is always exciting and we cannot wait to use our experience and heritage within the world of Sport and Fashion to produce some market leading products for the Team, Staff and Fans for the upcoming BTCC season. We were amazed by the statistics we were presented with for BTCC as a whole, in terms of fan base, reach and engagement, and loved Power Maxed's approach. We just couldn't find a reason not to be involved"
Tony Di Ponio, Director of Speed One Sports - "We are so very excited by this new partnership. We will fuse two great brands together in Kappa and Power Maxed Racing, to create a great offering for the enormous number of BTCC fans. Speed One Sports will be delivering the partnership, adding our experience and quality service to the package. I want to take this opportunity to wish the PMR Team all the success for the season ahead!"
Alan Gow, Chief Executive of the BTCC – "Having Power Maxed Racing attract a prestigious, global brand is quite a coup. And it perfectly underlines what we already know; that the BTCC's incredible fan base offers such brands an ideal opportunity to partner with our teams and, very cost effectively, reach their target market."