PMR Announce Partnership with WT Author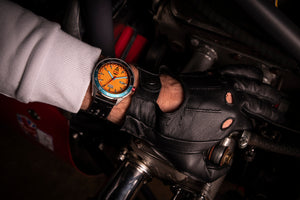 Power Maxed Racing have today announced their latest partnership with British watch company,
WT Author
. The Shropshire based company have forged themselves a reputation within a highly competitive industry as stalwarts of tradition and excellence, paired with engineering expertise. 
The brainchild of Jon Shakespeare and Sam Holland, WT Author prides themselves in producing limited runs of each of their watches, all of which are hand assembled by the duo at their Shropshire workshop. 
All watches are individually numbered and certified for each customer, and sealed in traditional style boxes with wax, with every step of ownership becoming an experience. Whilst designed and constructed using traditional methods, every watch features a world-class movement, comprising swiss and Japanese components, and comprehensive warranty, for peace of mind. 
Martin Broadhurst, PMR Team Manager –
"We've been aware of WT Author for a while now, and have always liked the story behind what they were doing. After meeting Jon earlier in the year and experiencing the quality for ourselves, we were sold. At our level of motorsport, reliable time keeping is absolutely essential, and we have absolute confidence that the products won't let us down."
Sam Holland, WT Author Co-founder –
"We're thrilled to partner with Power Maxed Racing throughout the 2020 season. Their team strives to succeed and continues to achieve so much in such a short history. Our brand values are identical, and as we both continue to promote these (whether this is in motor racing or watchmaking) we know our successes won't stop here. We look forward to championing the team and establishing a lasting partnership."