PMR Announce Support & Development Programme for Hotshot Karter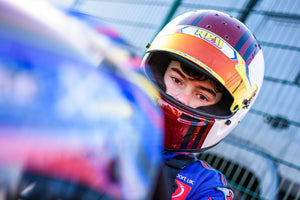 Power Maxed Racing has today announced their support of up and coming kart racer Lucas Blantford.
12-year-old Blantford will be undertaking his first full year of karting in the British Kart Championship with Zip Kart, after making an impression with team boss Earl Panagi last year.
2020 saw Blantford's first year in karting, and despite only racing 4 rounds of the IKR Shenington Championship, the Warwickshire-based driver narrowly missed out on second place overall, bagging a third place trophy for his efforts. He was one of only two drivers to win all his competitive heats and final race in the same day.
Blantford's long term plans have seem him strike a partnership with Martin Broadhurst and the team at Power Maxed Racing, who are looking to develop the young driver both on and off the track, with the aim being to introduce him to the Ginetta Junior paddock once he turns 14, although Blantford's eyes remain firmly on the top step of the BTCC ladder.
Martin Broadhurst, Power Maxed Racing Team Manager – "We are approached by a number of young drivers every year, but Lucas stood out from the moment we first opened conversations. Not only does he have a very obvious natural talent on the track, but he has the drive to succeed off it, and there are very few boys his age who have the wherewithal to look at their future journey and build long term partnerships now. We're looking forward to a long and fruitful relationship together."

Lucas Blantford – "This is an opportunity of a lifetime and I feel very lucky and privileged to join such a successful race team as Power Maxed Racing. I follow the BTCC with my dad, and still cannot believe this is happening; it really is a dream come true. I am looking forward to the training I will be given, and intend to work hard to fulfil my dream and the belief PMR have in me."