PMR Announce Technical Partnership with DMS Technologies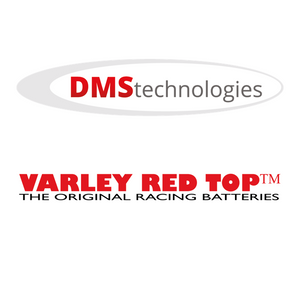 Power Maxed Racing have today announced their newest Technical Partnership with DMS Technologies.
The Hampshire based company are responsible for the world famous Varley Red Top battery, which has been the premier choice for the professional and club racing driver for some 60 years. The batteries and the range have evolved over time to meet the changing demands of both motor racing and rally disciplines, and now include Varley Lithium Batteries, which have applications in both the motorsport and aviation industries.
DMS technologies is a leading supplier of DC power systems and battery based electrical products. They design, manufacture and supply high quality reliable power solutions to a wide range of demanding markets and applications.
Established in 1986, and based just outside of Romsey, Hampshire, their high level of quality control, engineering and manufacturing capabilities allow them to provide a range of power solutions to multiple markets.
PMR and DMS will be looking to work together on a number of innovative projects both on and off the track, and see it as the start of a long-term relationship.
Martin Broadhurst, Team Manager, PMR – "Varley Red Top is a name that's known by everyone in motorsport, and has earned itself a reputation for consistent reliability and performance in virtually every racing formula worldwide. We've been speaking to DMS Technologies for a while, and have been impressed with their knowledge and passion for development since the off. We're looking forward to developing a close working relationship with them in 2020 and beyond."
Matt Donnan, General Sales Manager, DMS Technologies – "It is very exciting for us to start the 2020 season with Power Maxed Racing. We have been following them and their BTCC Vauxhall Astra racing team for a while, and as one of the leading teams in the Championship we are sure that our Varley Red Top Batteries will serve them well in the up coming season."