PMR Celebrate Fast Car Magazine Partnership with Fan Q&A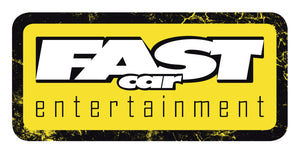 To celebrate the launch of our partnership with Fast Car Magazine, the UK's largest modified car publication, we gave you the opportunity to ask us anything you wanted, about motorsport, the BTCC and us. You can check out some of the most interesting below.
You'll be able to read about all our exploits, both on and off track, in the mag every month, as well as exclusive behind-the-scenes content over on their website.

Make sure you're following them on Facebook and Instagram so you don't miss out on the latest news and shenanigans:

How do you choose your drivers?
Ooh, good question. Lots of misconceptions here. It's a very long, convoluted process that is, in layman's' terms, based around 3 things: skill, money and sponsors. Firstly, the drivers pay us to race. As a front running team, a seat in one of our cars can be 3 or 4 times the cost of one in a backmarker. We don't talk about money, but for a driver of Jason Plato or Mat Jackson's level to drive for us for a season is the price of a decent house. We'll be going into more detail about this at some point, so keep your eyes peeled.
How much is the budget to run a team like yours for a season or is this confidential?
Honestly? A lot. If you've got a figure in your head as to what you think it is, you can probably double it and add a zero. To put it in perspective, our tyre bill alone is in 6-figures, we take at least 4 trucks to each round, and there are 30 people to feed and house for 4 days. And that's without even touching the cars. Think 7-figures.
 It must be nice having the winter off, travelling around the country watching racing AND getting paid for it?
Yeah that's definitely not how it works. Motorsport is more of a lifestyle than a job, and is certainly not for the faint hearted. During the winter off-season, we're working super hard on developing the car and infrastructure, alongside sorting out sponsorship, branding and clothing etc. And the only races we get to watch at the track are the BTCC ones on the TV, purely so we know what's going on. Between races we're all flat out getting everything sorted for the next session, as well as looking after our VIP guests and sponsors.
What made the boss man go into the BTCC? Was it a commercial decision, or a love of the championship?
Both really. Anyone into cars knows how big the BTCC is, so from a head and heart perspective, with the huge following, it's a no brainer. His first brand, Steel Seal Head Gasket Repair was plastered over cars from 2011-ish, and when Power Maxed was launched in 2014, it was the title sponsor of a single car team. He decided he could do a better job of running it, and PMR was born. From 2015-2017 it was the major marketing medium for the cleaning and car care products, and turned an obscure brand into one of the biggest in Europe. It's now helping other brands grow massively, getting into markets they never thought possible.
Plato has experience with Vauxhall in the early years of BTCC. Has he brought those skills to this new Astra and the team?
JP is an incredibly experienced driver, and with experience comes knowledge. Obviously being able to drive fast is important, but being able to give the right feedback on changes to the car is invaluable to proper race teams. We're fighting for thousands of a second in the car, and the most minute of changes can completely change the handling characteristics. After each session, the Team Manager, along with JP, his Race Engineer and Data Engineer will sit down and analyse the data recorder for the last session. Him being able to interpret this like an engineer makes a massive difference.
I've done a lot of track driving. How do I become a racing driver?
Well, your first step is to get out on track with a proper instructor, because the difference between a fast driver and a racing driver is massive. Track craft and positioning is something that's super hard to learn on your own, without the assistance of a proper instructor. Then you'll need to apply for your ARDS licence, which gives you the opportunity to compete in UK and European events. Budget for racing is something you'll need to consider too-if you want to be competitive in even a low-level series, budget £20k for the year. One option that's becoming super popular is Citroen C1 Club Racing, mainly because all the cars start life as a bone stock 1.0 C1, and you can build one for as little as £7-8k. You can almost guarantee they'll be at least one BTCC driver racing at each round, and they're genuinely hilarious. We've built and run a few now, and have always come away with huge smiles on our faces.
Can I have a go in a BTCC car?
Surprisingly, yes. Bring us your ARDS National A (minimum) Race Licence and a bank transfer for around £20,000 for a test day, along with your damage cover and track insurance, and we're good to go.
My son would love to be a team engineer. What advice would you give for him to get the qualifications and experience he needs?
Study and hard work! He'll need to do a degree in Motorsport Engineering, such as those offered by the University of Wolverhampton. Tell him to approach as many teams as he can, offering voluntary assistance at race rounds and in the workshop. High level motorsport is hard to get into, so if he can get a foot in the door with someone, it'll help him in a big way. That could be helping out with the Hospitality team on a race weekend, or sweeping the garage-team managers have good memories, and recognise people that are willing to graft, starting at the bottom and working their way up.
How many people watch the BTCC, and how can I get involved?
In 2019, just under 20m tuned in for the live shows on ITV, which take place across the 10 race weekends, between March and October. You can watch it all live on there, or you can join the other 400,000 people and come experience it for yourself. Tickets start from as little as £20, and there's bound to be a round somewhere near you. It's petrolhead nirvana, and the most popular motorsport in the UK.