PMR eSeries Championship Standings-Donington Park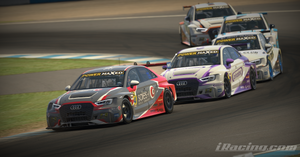 Yesterday saw the inaugral round of the PMR eSeries Powered by NXTGEN. Thanks to the hard work from everyone at YearOne TV and AlphaLive, just under 12,000 of you tuned in live to watch the Premier Tier battle for supremecy. An unfortunate early exit by Jason Plato, caused by technical issues, didn't seem to dampen the spirits, as the remaining drivers, made up with a mixture of sim racers and real world professionals, enjoyed a fantastic evening of clean and competitive racing.
Unfortunately, John Robins & Lewis Kent (standing in for Stewart Lines) were unable to join due to technical issues, and Yann Erlacher will be joining us from Round 2.
The current Championship Standings are below. Pro drivers are denoted in grey:
Tier 1 Championship Standings:
Tier 2 Championship Standings:
Tier 3 Championship Standings:
The next round takes place at Brands Hatch's Indy Circuit, and promises non-stop action from the get go. It all kicks off at the same time next week - 8pm BST on Wednesday May 6th, and we'll list where you can watch every tier on our Facebook that evening.