PMR eSeries Championship Standings - Oulton Park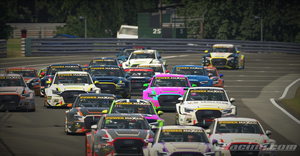 This week saw the Pros finally best the Sim Racers, with current Porsche Carrera Cup GB Champion Dan Harper taking the first outright Pro race win, closely followed by Ginetta supremo Josh Malin.
It also saw a number of new Pro drivers join us, including Callum Newsham, Michael Crees and Shaun Hollamby.
The battle for the championship win really starts here, and with the pros getting to grips with the cars, the second half of the season should make for some incredible racing.
The current Premier Tier standings are below:
Tier 1 Championship Standings:
Tier 2 Championship Standings:
Tier 3 Championship Standings:
Following the Summer Break, the next event will take place at Norfolk's Snetterton Circuit on Wednesday, June 10th, from 7:50pm BST. As always, you'll be able to catch the action over on our Facebook page, or YearOne's YouTube channel.