PMR eSeries Powered by NXTGEN References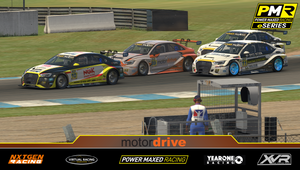 Brands Hatch Indy Qualification Setup:
Click link here for step-by-step instructions on how to install the fixed setup, meaning you can practice for Qualifying, which will take place on Wednesday 22nd at 20:00 GMT. The faster you qualify, the higher the tier you will be placed in.
Those Qualifying in the Pro Tier will be racing against motorsport legends, including Jason Plato, James Calado and Tom Onslow-Cole, as well as other current drivers from elite-level series across the globe.
How to access Qualifying:
Click link here to find out how you can qualify for the series. We have 600 qualifying slots available, and the top 250 from those will go through to race in the series. Only the very fastest will go into the Pro Tier, where they'll be competing for some amazing prizes. Demand for this event is unprecedented, so get practicing, and good luck!
Qualifying Circuit Conditions:
Time of Day – Noon
Track Temp – 26C
Humidity - 55%
Wind - North 2m/r with clear skies