PMR Form Sports Science Partnership with Precision Hydration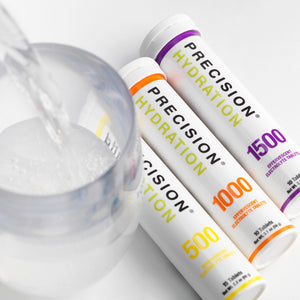 Power Maxed Racing have today announced their partnership with sports science experts, Precision Hydration.
Dorset based Precision Hydration was founded in 2011 by Andy Blow, a former elite triathlete and Team Sports Scientist for the Renault and Benetton Formula One teams. The company's clients include a long list of NFL, NBA, Major League Baseball and Premier League soccer teams, as well as elite and age group athletes in triathlon, cycling and running, tennis, motorsports and more.
As well as their Sweat Test and expertise, Precision Hydration also offers a multi-strength, multi-format range of electrolyte supplements to help athletes adequately replace what they're losing in their sweat.
Precision Hydration will visit the team when safe to use their patented, at-rest Sweat Testing technology, adapted from the medical industry, to accurately measure how much sodium each driver and member of the pit crew loses in their sweat.
As part of their ongoing programme to maximise team performance, PMR will then utilise Precision Hydration products to implement personalised hydration plans to help the whole team stay optimally hydrated in the cars and the garage throughout the year.
Martin Broadhurst, PMR Team Manager – "Driver performance is something we've been working on improving over the last couple of years, by minimising cabin temperatures, thanks to our long term partners at Zircotec and their heat management products. The next step in this process is ensuring that not only the drivers are properly hydrated, but that the team in the garage are also at their peak performance. Across the 4-day race weekend, the team work incredibly hard, sometimes in hot and humid conditions, and working with Precision Hydration will mean they're always fully hydrated, and able to operate at their best."
Andy Blow, Founder, Precision Hydration – "We work with drivers and teams in a number of motorsport disciplines, but Power Maxed Racing are the first BTCC team to make a commitment to understanding their entire team's hydration needs using our technology and know-how. They're a very forward-thinking organisation and we're excited to be working with them. When it comes to motorsport, most people think of the performance of the drivers, but of course there's a whole team of people working hard, often in very hot and humid conditions, during qualifying and the race day to ensure the cars and drivers are in a position to perform at their best."