PMR Step Up Long-Term Partnership with Absolute Alignment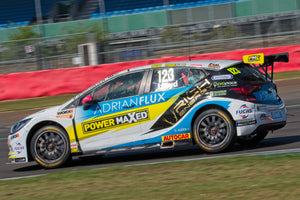 Absolute Alignment, suppliers of specialised wheel alignment equipment in the UK, has penned a new deal to back Power Maxed Car Care Racing in the British Touring Car Championship (BTCC) for 2021.
As a long-term technical partner to the team, Absolute Alignment is now entering its fourth consecutive season of supplying race-winning wheel alignment equipment to the outfit, while also becoming an official sponsor on Jason Plato and Daniel Lloyd's Vauxhall Astras.
New for 2021, Power Maxed Racing (PMR) is filming a multi-episode documentary series for Amazon Prime in which Absolute Alignment will feature as the cameras follow the team's progress throughout the season, both on and off track.
Chris Dear, Absolute Alignment's Technical Director, said, "We have already had three successful seasons working with PMR in the BTCC and this year we have stepped up our involvement with the team. Nothing changes with regards to the four-wheel alignment equipment we provide PMR in order to help them win races, but in addition we have signed up as an official sponsor which includes backing the production of the team's exciting all-new television series – to be shown later this year on world-class streaming services and free-to-air channels.
"PMR is such a professional outfit, offering new opportunities in the BTCC, that it was an extremely easy decision for us to become a sponsor as well as a technical partner for 2021. We can't wait to watch the exclusive documentary and to share it with all our customers as soon as it's released."
 Martin Broadhurst, Power Maxed Racing's Technical Director stated, "The Absolute Alignment equipment has been a serious tool in our armoury from the very first time we used it. Not only is it simple to use, but it means we can make the miniscule changes necessary to the race cars when they're out on track.
"Chris and his team have been fantastically supportive from the outset, and we're excited about them stepping up their support of the team for the 2021 season. The Amazon documentary will give fans greater access to the goings on behind the scenes than ever before, and I'm looking forward to showing them just how integral Absolute Alignment is to the team."
The 2021 BTCC season starts this weekend (8-9 May) at Thruxton. For further information on the wheel alignment equipment available from Absolute Alignment, visit www.absolutealignment.co.uk.