PMR & Trade Price Cars Join Forces to Field a New Two-Car TCR Team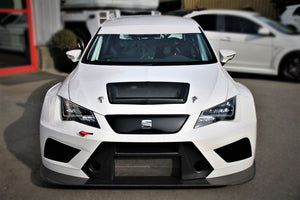 The latest team to add its name to the 2020 TCT/TCR-UK series' ever-increasing entry list is that of Trade Price Cars and Power Maxed Racing (PMR) - both brands synonymous with teams currently contesting the British Touring Car Championship.
This new venture has been formed by Trade Price Cars owner and Team Principal Dan Kirby, who will drive one of the team's two recently acquired Seat Leon TCRs, and Martin Broadhurst, PMR's Technical Director.
"Having spent a couple of season's in Ginettas and after establishing the Trade Price Cars team in the BTCC last year, I now feel it's the right time to make a move into saloon car racing myself, and I see TCR-UK as the perfect place to do it", explains Kirby.
"I think the series has great potential and I'm keen to see it get the profile and size of grids it deserves. I'm therefore excited to be part of it this season and to be able to bring a new team to the TCR-UK paddock."
Martin Broadhurst said "With our first foray into TCR at the end of last season ending in a double class- podium, we've been exploring the move into TCR for quite a while. When we were approached by Dan (Kirby) to run his newly acquired Seat Leons, it slotted perfectly into our plan.
"Having campaigned in the BTCC for a number of years, and with Dan's Trade Price Cars Racing enjoying a successful debut season it's fantastic to bring the 2 teams together in TCT/TCR-UK in what looks to be a hotly contested championship."
The driver of the second Leon is yet to be confirmed. Any drivers interested in joining the team that has the experience and credentials to compete in a front-running car, should contact either Dan Kirby (Trade Price Cars) himself or Martin Broadhurst (Power Maxed Racing)