Podium delight for CarStore PMR at Donington GP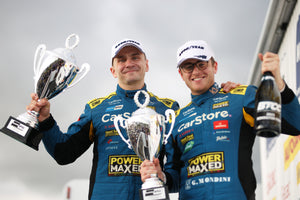 CarStore Power Maxed Racing enjoyed a second podium in as many rounds of the Kwik Fit British Touring Car Championship, plus two Independent wins and a Jack Sears Trophy success on a silverware-laden weekend at Donington Park [26-27 August].
The Bidford-on-Avon team made the relatively short trip to the 2.4-mile East Midlands venue buoyed after scoring two 'Indy' wins and the first outright podium of Andrew Watson's career last time out at Knockhill.
That, plus a promising showing at Goodyear's in-season tyre test around the Grand Prix layout put spirits high, as the series' returned to the full-length configuration of Donington Park for the first time in 21 years.
Qualifying set the tone for a strong weekend, with Aron Taylor-Smith recovering from front-right damage after striking a tyre stack at the Foggarty Esses chicane to post the fifth fastest time of the session.
With Watson and Mikey Doble also scoring 12th and 16th place starting spots for the team's other two Vauxhall Astra challengers, it promised to be a points-heavy race day on Sunday.
Race day dawned, and with it the promised rain arrived, forcing the entire field onto wet tyres for the first of three races in front of an enthusiastic – if a bit sodden – trackside crowd, plus millions more enjoying the coverage at home on ITV4.
When the lights went out, Taylor-Smith was bested by the fast-starting, rear-wheel drive BMW of Adam Morgan, and dropped to sixth on the run through Redgate. Undeterred, the Irishman made an almost immediate response, sending a lunge to the inside at Melbourne hairpin to take the place back.
Both would lose a spot to the sister BMW of Jake Hill as he charged through the order late on, but sixth at the chequered flag still represented a second Independents win in as many meetings for the 33-year-old.
Watson and Doble both fell back at the start but recovered impressively. Watson started his comeback by making five passes in just two laps, before passing Butcher on the brakes into the Melbourne hairpin and then claiming ninth from an ailing Morgan in the closing laps.
Doble had dropped to 20th by the end of the first tour, but the reigning Ginetta GT5 and BMW Compact Cup champion was able to restore his 16th place by the finish, scoring valuable Jack Sears Trophy points in the process.
Race two brought about drier weather, but the trio seemed to struggle in the changed conditions; Taylor-Smith was able to put himself in the reverse grid draw with tenth, but Watson and Doble could only manage P16 and P18 after a sometimes-feisty inter-team battle.
But the real highlight of the weekend, without a doubt, was the reverse grid finale. Having been drawn onto third, Taylor-Smith fended off Morgan on this occasion with a robust defence into Redgate, before diving past Tom Chilton's Hyundai into the hairpin.
His time in second was short-lived, however, as a move from Rory Butcher's Toyota around the outside of the Craner Curves forced Taylor-Smith to concede into the Old Hairpin.
The Dubliner held his nerve in third spot and benefited from a cruel twist of fate late on, as leader Daniel Lloyd's broken driveshaft a few corners from home put him in the gravel, and Taylor-Smith back into second place.
He took the flag, and another Independents win, to spark jubilant scenes on the pit wall, in the garage and trackside, as the BTCC's passionate crowd celebrated the end of a 2,555-day podium drought for one of the series' established stars.
Watson ended the day in the points with P12 and co-won the Jack Sears Trophy over the course of the event with Sam Osbourne. He now leads Doble – who ended the final race in P16 – by 14 points.
Taylor-Smith's heroics have leap-frogged him into second in the Independent Drivers' standings, with CarStore Power Maxed Racing now occupying the same spot in the Teams' stakes.
Silverstone's National circuit hosts the penultimate event of the season on 23-24 September.
Andrew Watson (#11) said:
"It's been a really solid weekend. The headline is we're back in the lead of the Jack Sears Trophy, which is great.
"Race 1, we had really positive pace in the wet again, and made some great progress to P9. Race 2 was a bit of a struggle in the dry, we had a poor start and fell back a bit.
"But again, the car was really fast in Race 3, and we got back into the points in P11.
"It follows up such a strong weekend at Knockhill and shows where the Vauxhall Astra is at the moment. Aron's result was great for everybody as well, the team are doing a tremendous job at the moment.
"I'm chomping at the bit now to get to Silverstone!"
Aron Taylor-Smith (#40) said:
"Coming into the weekend, I had a feeling this could be a special one, based on our performance here during the Goodyear tyre test.
"But, to come away with two Independent wins and an outright podium is something I'm immensely proud of.
"It's an absolute testament to everything that CarStore Power Maxed Racing have done with this Vauxhall Astra, in giving me a package that can compete at the front of the field with the best of the best.
"It's not lost on me how difficult that is to achieve – I have seven years without a podium as a reference point!
"Without Adam's belief in me, without the support of Martin and the whole team, there's no way I'd be doing what I am doing. I feel like they have resurrected my touring car career and I couldn't be any happier.
"We're heading to Silverstone next, which is one of the circuit's I'd circled in my calendar as one where the car has been historically strong, and I think will be again, so I think we can kick on from this and enjoy a really strong end to the season."
Mikey Doble (#88) said:
"A tough weekend from my side of the garage. A brake issue in FP1 ended my session early, followed by a wet FP2.
"Qualifying didn't go to plan either, with a mechanical issue which had to be fixed in the pit lane. To get back out with less than ten minutes to go and end up P16 was a good result.
"The race day went slightly better with a steady P16 in Race 1, however Race 2 we suffered a brake issue which cost us making further progress up the field.
"Race 3 was another steady finish to P16, however sadly still out of the points. It hurts we have lost the Jack Sears Trophy lead, but we will come back fighting at Silverstone."
Martin Broadhurst, Team Manager said:
"We were very optimistic going into this weekend, with how we've performed in recent rounds, and the pace we had at the tyre test, but it's a fantastic feeling to deliver on that and walk away with a podium, plus some class wins.
"Aron has been such a tremendous driving force for the team this year, so I'm very pleased to see him back where he belongs, up at the front. Andrew banked some good points and a Jack Sears win, and Mikey did well to navigate a few problems and keep himself in the hunt.
"Silverstone should be another good circuit for us, so we'll regroup at HQ, go through a few things and then aim to come back in three weeks and keep this good run going.
"A huge thanks to the entire team for their continued hard work, commitment and support – this result is yours, as much as anybody."
Adam Weaver, Team Principal said:
"Days like today are why we go racing, plain and simple.
"I'm so proud of everybody at CarStore Power Maxed Racing. All year, we've known that performances like this were on the cards. We have three fantastic drivers, and a tremendous team off-track, and this is all no more than everybody deserves.
"There's definitely life left in the Vauxhall Astra yet, despite what you might hear! It's great to go back to the workshop with a handful of trophies tonight, and with everything left to play for over the last six races in three different championships.
"It feels like we're riding on the crest of a wave at the moment, long may that continue. Hopefully results like this help us attract new partners to the team, so we can achieve weekends like this every time."