Positive Pace but Mixed Results for PMR at Castle Combe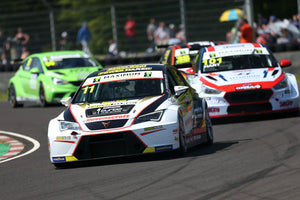 Bank holiday Monday saw Power Maxed Racing head to Wiltshire's picturesque Castle Combe circuit, for Rounds 3 & 4 of the 2021 Goodyear Touring Car Trophy, incorporating TCR-UK and The Volkswagen Racing Cup. With temperatures well into the 20s, it was the perfect day for the team to get back in front of fans for the first time since 2019.
Morning Qualifying saw PMR BTCC Development Driver Jac Constable lead the times for the majority of the session, before being pipped to the post by just 4/100s of a second. The Leon Cupra TCR of Dan Kirby came in P3, just 4/10s behind Constable, whilst rally driver Will Butler, who's competing in his first full season of circuit racing, ended the session P9.
In the Volkswagen Racing Cup, team stalwart Russell Joyce would drive his Mk7 Golf well to bag P3 for the start of Race 1. Unfortunately, things didn't quite as smoothly for Chris Wallis, who was going well before a tank slapper coming out of The Esses on Lap 5 put him sideways into a marshals' post, ending his weekend before it had effectively begun. He walked away, but with considerable damage to his Mk5 Golf, would not race again on the day.
After a small delay, Race 1 would start under glorious sunshine on what is renowned as one of the fastest but most unforgiving circuits in the UK. A great start by Constable would see him lead for a number of laps, before conceding defeat after a fantastic battle with multiple race winner Hart. Constable would take the chequered flag P2, 7 seconds ahead of his nearest rival, but a post-race penalty for jump starting would cost him 10 seconds, leaving him P6 in the standings, despite posting the Fastest Lap.
Kirby would also be struck down by bad luck, after a short excursion onto the grass left his cooling ducts full of grass and the car down on power, forcing him to pull off the track and retire. Luckily, no damage was done, and after a thorough check over, he was back out for Race 2.
Following issues with balance in Qualifying, Butler would continue to struggle to get the best from his Leon Cupra TCR. Despite this, he still managed to gain ground, crossing the line in P8, ensuring a solid points haul for the session.
Further back in the Volkswagen Racing Cup class, Russell Joyce was having no such issues, driving a great race and holding his own to take his second podium of the season, and his first of the day.
Race 2 would be the penultimate session of the day, with hundreds of fans enjoying the sun, and staying to watch the touring cars go head to head.  Following a number of judicial conversations and a reverse grid draw, Constable would start P6, with Butler P8 and Kirby P11, followed by Joyce P2 in class behind the faster TCR-UK cars.
The race would start well, with Constable battling his way up to P3 by Quarry corner, fighting hard for his place at the front of the pack. An incident at Turn 3 would see him spin at the hands of another driver, putting him at the back of the pack, facing a serious battle to get back to the front. Despite the field ahead, Constable managed to battle back to P6 before a technical issue forced retirement.
Contact early on in the race would see Kirby having no choice but to end his race early, thanks to a broken front suspension setup. He would leave the day with two DNFs, despite great pace throughout.
Meanwhile things were looking better for Butler, who had found the sweet spot in his Leon Cupra TCR, and was getting stuck in to some fantastic battles towards the close of play. He would eventually take the flag P6, less than 4/10s of a second behind local boy Alex Kite, whose extensive knowledge of the track ultimately gave him the advantage.
Russell Joyce was having a similar fight in the Volkswagen racing Cup field, and managed to bring his Golf home P2, giving him his second podium of the day, and his third from the four races so far this year.
Jac Constable, TCR-UK – "It's been a slightly frustrating weekend to say the least-after missing out on pole by such a small margin I was keen to get a good start in Race 1. Maybe a bit too keen! This penalty lost us our second place, but we were feeling good about our pace for the second race. Race 2 gave us a great start, getting to P3, unfortunately a tap in the rear pushed us off the track where we went back to 15th. Pace was then good, making our way back up to 5th, to then have a gearbox failure on the closing laps. It's great to prove the pace is in the car, though, and I'm very excited for the next round and rest of the season."
Dan Kirby – TCR-UK – "After promising pace in testing, not to mention qualifying P3, it was extremely disappointing to get two non-finishes at Castle Combe. I was confident we could have challenged for wins this weekend, but it just wasn't to be. We will come back stronger at Brands Hatch in a few weeks' time."
Will Butler, TCR-UK – "I struggled most of the weekend to get a connection with the car. After making a number a setup changes throughout the day, I had a great connection for Race 2. I felt towards the end of the race my confidence came back, and I was able to challenge like I wanted to. Unfortunately, it was a little too late, however I'm still more than happy with P6. I can't wait for Brands now!"
Russell Joyce, Volkswagen Racing Cup – "I'm delighted to come away from Castle Combe with a double podium. The PMR team had shown professionalism to deliver me a mega car on a circuit that we had very little previous time at. The Castle Combe circuit did not disappoint, with fast, competitive action throughout the day, and proved to be a circuit not for the faint hearted! I really feel I'm gelling with the car, and confident that we can find more time to challenge for that first race victory! We look forward to visiting Brands, my home circuit, and hope we can have a repeat performance."
Power Maxed Racing next TCR-UK & Volkswagen Racing Cup weekend will take place at Kent's Brands Hatch circuit on the 19th & 20th June.