Power Maxed Racing kick starts the TCR-UK Bank Holiday Weekend with podiums.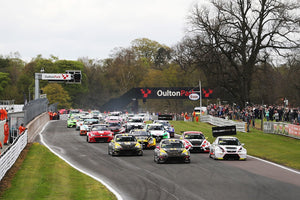 Power Maxed Racing kick starts the TCR-UK Bank Holiday Weekend with podiums.
The Bank holiday weekend saw Power Maxed Racing at the Cheshire circuit, Oulton Park on the International layout. Kick starting the TCR- UK campaign with all four drivers, Jac Constable, Russell Joyce, Chris Wallis, and Callum Newsham.
With bright blue skies all weekend the paddock and excitable fans were in good spirits and with the timetable spread over four days due to a no racing policy on Easter Sunday, the team had a smooth sailing weekend with time to prep the car and the drivers had time to get focused and ready for the two sprint races on the bank holiday Monday.
 Saturday saw a nail biting qualifying session with all drivers fluttering up and down the timing sheet. In the final moments we saw Callum Newsham secure eighth place and Jac Constable finishing the session in eleventh place after having a great return to track, flying high in third at one point of the qualifying session. Both Russell Joyce and Chris Wallis finished in the low twenties.
 The morning of the bank holiday Monday had everyone well rested and prepared for the jam packed day ahead with thousands of fans watching.
Race 1 set the tone for the TCR-UK campaign with Jac Constable showing us all what he is capable of; starting 11th on the grid and flying up to sixth place ahead of teammate Callum Newsham who drove spectacularly securing seventh place. The very charismatic, Russell Joyce finished in fifteenth and won the first Goodyear Diamond Trophy for the competitors aged 40 or over and Chris Wallis climbed up the grid five places resulting in nineteenth.
 Later that day saw race 2 which definitely didn't disappoint with superb driving from all including our very own Constable battling up to second however due to an issue with the car finished with a very unwanted DNF. With two Safety Cars bunching the pack up and mixing up the grid on the restarts, making the race an edge of the seat watch and resulting in Newsham colleting his first-ever TCR-UK podium. Russell Joyce joining Callum on podium collecting his second Goodyear Diamond Trophy and finishing in eleventh place and Chris Wallis continuing to make up places finishing in seventeenth place.
Russell Joyce, No: 72 shares "Joyce Design is thrilled with the start of the TRC UK season, collecting silverware in both races with the Goodyear Diamond Trophy and a 15th and 11th place finish in what is proving to be a very competitive grid! After 7 years of partnership with PMR, we carry on making great progress and are looking forward to the next race! As an official sponsor, we couldn't be prouder to be associated with this exciting championship – special congratulations to Jess Hawkins who cleaned up on the rookie front and made history by being the first female to win a TCR race!"
Jac Constable, No: 257 said "It was great to be back out there racing with the Power Maxed Team, in what was a large competitive grid with so many new teams and drivers. My weekend didn't go as we had hoped but I'd like to congratulate Russell Joyce for his Diamond Trophy wins. It's going to be a hard-fought competitive year and I hope I'll be in the mix..Bring on Donington!"
Callum Newsham, No: 16 said "It was a great weekend and a really encouraging start to our 2022 TCR UK Championship. The team worked well during the weekend and improved the car for race two where I gained my first podium of the season in only our first race weekend. I'm sure we can improve the car further and there is still some time in my driving too. This puts us in great shape for the rest of the season."
Dave Newsham, shares "I'm very proud of the way Callum drove in his first TCR weekend, it's a great start to the season. The team improved the car for race two and Callum was one of the quickest drivers on track. I'm sure as a team we can continue this progression and make Callum a title contender."
Chris Wallis, No: 52 said " What can I say about the weekend!!! Generally we had a decent weekend with only a few problems with the car that saw our qualifying slightly down on where we wanted to be, and with race 1 also suffering due to an overheating issue.Race 2 saw an improvement with much better pace and with more seat time in the car, we expect to be a lot more competitive. I'm Looking forward to Donington in a few weeks time with some testing booked which should see us further up the grid. Thanks to PMR for all they did over the weekend to provide a competitive car and to my sponsors George Boyd and the Focus Group of companies for the continued commitment."
Martin Broadhurst, Team Manager; "Overall we are very happy with the weekend, all drivers drove incredibly well, and it was very unfortunate for Jac to DNF but we will come back stronger next round. Over the moon for Newsham to receive his first podium for PMR in the TCR campaign and Joyce to collect not one but two Goodyear Diamond trophies. Great overall results on the Easter bank holiday."
Join us for rounds three and four of the 2022 TCR UK Touring Car Championship will take place at Donington Park over the weekend of 28-29th May.