Power Maxed Racing Step Up Driver Development Programme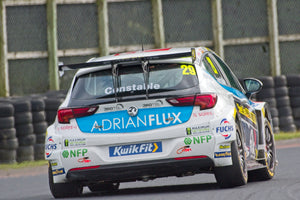 Power Maxed Car Care Racing have today announced that Jac Constable will be joining the team as their BTCC Development Driver. The Fleet-based driver is no stranger to the team, as he was due to drive one of the Power Maxed Car Care Racing Vauxhall Astras at Croft last year, before a last minute bout of appendicitis forced him to step down.
The team are still in talks with various drivers to determine who will join Double Champion Jason Plato in the second Astra this season. With several experienced drivers in discussions with the multiple-race winners, PMR are making the most of the extra time the delayed season start has brought to the table, in order to assess the best candidate for the seat.
The Warwickshire-based team have been vocal about their support of giving drivers a chance in the UK's most popular series, and having given the likes of Josh Cook, Senna Proctor and Jade Edwards their big break in the sport, show no signs of abating with their latest announcement, with the intention being for Jac to join the team as fully fledged BTCC racer in 2022.
Constable will be taking to the track in one of the team's Leon Cupra TCRs, looking to take victory in the hotly-contested TCR-UK Championship, before aiming to step up to the pinnacle of British Motorsport, the BTCC. Constable will be working closely with PMR to develop the BTCC Astra, with a number of touring car test sessions already confirmed, and will be learning the ropes at BTCC events throughout the year, with hopes for his first BTCC assault with the team in the near future.
The 23-year-old is no stranger to the TOCA paddock, having taken the Ginetta GT4 Am title in 2017, after winning 13 of 23 races outright, with a further win in the Dubai 24-hour "Championship of The Continents" in 2018.
Adam Weaver, Power Maxed Car Care Team Principal – "The decision to postpone the start of the season has given us more time to make sure we do the right deal for our second driver this year. With JP's win at the end of 2019, and the extensive development process the cars have undergone during the winter break, we're quietly confident of some great results this season, and are looking to ensure that whoever takes the seat is capable of racing at the front straight out of the box. I'm really looking forward to working with Jac as part of the Development Programme-he slotted into the team perfectly last year, showed a lot of potential at his test and will be a valuable asset over the years to come."
Martin Broadhurst, Power Maxed Car Care Racing Team Manager – "We're really looking forward to working with Jac again, after his chance in the car was unfortunately cut short last year through no fault of his own. He really impressed us with not only his skill on track, but his attitude and professionalism away from it, and we've been discussing how we can continue working together since Croft. The programme we've put together is a great way of giving him the experience necessary to join the fiercely competitive BTCC grid, transferring his skills in rear-wheel-drive cars to front-wheel drive-touring cars."
Jac Constable, Power Maxed Car Care Racing BTCC Development Driver – "When I had the call from Martin [Broadhurst] offering me the Development Drive I was over the moon! I'm so excited to be helping Power Maxed Car Care Racing in their push to challenge for BTCC titles, and I'm looking forward to getting stuck in. This will be my first year racing front-wheel-drive, and I'm relishing the challenge. What better way is there to attack my first season away from rear-wheel-drive than with PMR's guidance and experience? The team helped me get my first taste of the BTCC last year at Croft, and with this new Development Driver role, I'm one step closer to progressing my dream of joining the BTCC grid."