Rob Austin to Pilot PMR Astra at Thruxton This Weekend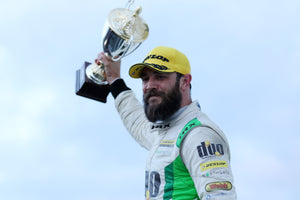 Power Maxed Racing have today announced fan Favourite Rob Austin as a last minute replacement for Mike Bushell to contest rounds 13, 14 & 15 of the KwikFit British Touring Car Championship, taking place this weekend at Thruxton.
Bushell received ligament damage and a dislocated shoulder when driving the team's Vauxhall Astra at Knockhill a few weeks ago, after a heavy incident with Ollie Jackson and Sam Osbourne. Following medical advice, from the championship Doctors, it was felt that it would be safest to allow the 31-year-old's injuries more time to recover to a sufficient standard before he is allowed to race again. This is obviously advice the team thought best to follow.  
Instead, the race-winning PMR machine will now be piloted by BTCC-legend, Rob Austin. Austin is no stranger to the paddock, having joined the championship in 2011, and has a number of race wins and podiums to his name, not only in BTCC machinery, but a brace of F3 cars and Ginetta GT4s.  
Austin will take to the wheel at the UK's Fastest Track, Thruxton, and is excited to get back behind the wheel after his "retirement" from the sport at the end of 2018:
"When I got the call from Adam
[Weaver, PMR Team Principal],
I just couldn't say no! I've seen how good the car can be around Thruxton, and I love the circuit. There are some hurdles to overcome; there's the obvious new driver ballast that I'll have to drag around with me, but I also haven't driven competitively for nearly two years now, so I don't know how rusty I will be. I will be doing everything in my power to overcome these as quickly as possible, and if I do a good job then there is every potential to show well come Sunday afternoon."  
Team Principal Adam Weaver is equally as positive about the weekend:
"Obviously a last minute drive change is less than ideal, but when it became obvious that Mike would be unable to drive this weekend, I was straight on the phone to Rob. We've had a great relationship for a while, having known each other since school and he's known for being a fearsome driver that takes no prisoners when he's on track. We've shown the pace of this car this year without question, albeit with bad luck marring results, and I'm really looking forward to seeing him get to grips with the car. We're all keeping our fingers crossed for some luck this weekend!"
Fans can catch all the action live this Sunday over on ITV2, from 11:10, with Qualifying live on the
ITV website
from 15:15 on Saturday.