Rolling in to (and out of ) the Final Round.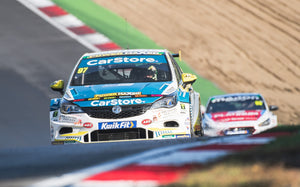 The team were excited arriving at Brands Hatch with it being the final visit this season and knowing how well we are capable of doing here. Also buoyed by the knowledge of the weather being on our side and with a large number of guests in attendance, we were optimistic for great weekend.  
With our first few practice sessions showing promise yet again we were growing confident of a good qualifying result however with previous experience showing just how much the other engine cars can improve come qualifying there was still apprehension in the team. Especially as we had to change yet another M-Sport TOCA engine due to its failure, with it being our 7th engine used this season the mechanics changed it quickly between sessions.  
As qualification got underway our fears were realised with many cars, with alternate engines going significantly faster in qualifying yet again. Its becoming ever more evident that to win the championship its very unlikely you will do it if driven by the championships TOCA engine, something we will need to give consideration to over the next few weeks, the first few of the closed season. 
Arriving at a beautiful but quiet circuit on Sunday we had the feelings we have had all to many times this season, knowing that we would be in for a tough day of racing making our way through the grid from our qualifying positions of 16th and 20th but with  little sadness and relief in equal measures today would be our last day of racing in 2022. 
With our guests welcomed and an early pitlane walkabout done it was time to line up for race 1 of the day after a temporary Porsche Treehouse was recovered from around the circuit, it was time. 
With lights out the action frantically unfolded with both Ash and Creesy having to avoid incidents and coming out relatively unscathed but with a couple of minor grazes to prove it. 
The 97 Car of Ash Hand being brake checked and hindering process from lap one, Hand finished in 18th Position with Crees just behind in 20th. 
It was quickly time for race 2 and as the race started, Hand having dropped a few positions from his starting position battled his way back up the field quickly gaining positions before the finish eventually finishing in a respectable 17th and narrowly missing out on points. Crees coming home in 21st. 
Race 3 didn't improve our day and really summed up our season with Crees finishing upside down in the Gravel after an incident with Jade Edwards, which she received 2 points on her licence for on the final lap of the race and certainly with it being the last lap of the season, not even racing for a points position, it was totally uncalled for and really not necessary.  However as a small consolation Hand battled his way through to another points finish in 15th. 
Adam Weaver CarStore Power Maxed Racing Team Principal commented "Again a tough weekend on the whole. It was nice however to see so many fans turn out and to have our hospitality packed with guests. I would like to congratulate the worthy championship winners, Tom Ingram overall and Bobby Thompson with the Jack Sears.  
The team worked tirelessly again, dealing with issues that were delivered mainly due to suppliers we have no control over. They are all incredible humans, im just gutted that we haven't be able to reward them with the results their efforts deserve.  
The issues we have suffered this year due to engine and hybrid not deploying has prevented us from showing just how good our Vauxhall chassis, Team and drivers are. Im confident both Drivers would of secured podiums this year had we not suffered the failure of 5 engines this year. 
Michael Crees 
A tough weekend, not what we had planned and certainly not what we hoped for, im surrounded by great people and we will keep working until we get the results we all want but that will now have to wait till next year. I was extremely disappointed to finish the year on my roof in the gravel, due to something that was so avoidable and to give the team extra work the moment the season had finished was just awful they at the very least deserve a few days off after the season we have had! 
Ash Hand 
Brands Hatch GP is a circuit I love having won there many times in the past and for the final round of the BTCC being there is a perfect way for me to end my first season in the Championship. The weekend started out with an engine failure which cost us valuable testing time. Unfortunately this unravelled our whole weekend which was a disappointing way to end the season. We have had an awful amount of engine reliability issues this year which has cost us multiple chances of getting good finishes! I would like to take the opportunity to thank all the sponsors and each and every team member for their support this season. 
Martin Broadhurst 
It is disappointing to finish the year without a podium and with a car upside down in the gravel, most importantly however is that Michael is ok. We now have plenty of time to study the data and test some theories ready for next year. We are resilient people and will build from here.  
As always the team have worked relentlessly to keep the cars prepared and ready for each session on time no matter the level of damage or component failure, so I'd like to say a thank you to everybody involved in making it happen and a special thankyou to the hospitality team and all those back at base and behind the scenes that make it all happen. 
As a Team.. 
Finally we would like to thank all the sponsors and partners, without which none of this would be possible, you are incredible special and really appreciated and we hope we have gained the coverage you require and benefit from it. Thankyou to all the fans of the sport and in particular the fans of the team and the endless encouragement you give us. Take care and stay safe until we see you again next season. 
For Images from the race weekend please see: