Solid start for CarStore Power Maxed Racing at Donington Park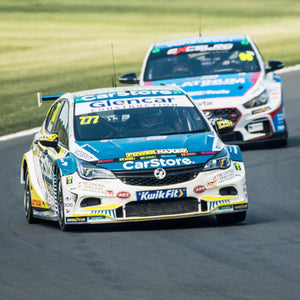 Solid start for CarStore Power Maxed Racing at Donington Park
 This weekend saw the CarStore Power Maxed Racing team move to Donington Park circuit ready for the first three rounds of the Kwikfit British Touring car championship with the new Hybrid element to contend with.
 With all Covid restrictions removed and entry tickets sold out we knew the paddock would be buzzing with excitement, and finally everyone being able to reconnect which made this weekend feel extra special.
 On the Saturday the skies were grey and the winds were high, everyone's hair flying all over but huge smiles on faces ready to get the testing started. Free practice one hosted early in the morning at 9:55 was interesting with everyone testing and wrapping their heads around the new hybrid system, having slight grumbles with the communication from the hybrid unit to the cooling system, however Creesy and Hand drove a decent amount of laps and set good times, knowing they both had a few more tenths in the car to use.
 Free practice two held later that same morning saw Crees #777 get up to p4 in the first few laps hitting a 1.09.575 time which was his best lap time of the session, before having to pit to cool down the engine. Hand #97 completed 15 laps in total and had a best lap time of 1.10. 637.
Later that afternoon we saw the dramatic qualifying take place, our drivers setting times straight out the gate and in p16 & p19 before the red flag was waved due to Cammish #9 catching fire; thankfully he was okay and got out the car quickly. After a ten minute pause and once the Marshalls had cleared the car from the track the rest of the pack were back out trying to set the best lap and the drivers didn't disappoint. Both Hand and Crees jumped up and down the order, highest being Creesy in p13 with a 1.09.485. With seven minutes to go both cars came in for a pit stop and tyre change to push on new rubber for the final minutes of the session, which secured Hand his best lap 1.09.554 and p19 while Crees finished just in front in P18.
 On the morning of race day, Sunday 24th April the sun joined the hustling paddock, fans filled the circuit from 8:30am. Over thirty thousand people came to support and cheer us on. Pit lane signing was back for the first time in two years and it was incredible, the drivers handing out signed hero cards and signing people's hats/ helmets and phone cases; the mood was electric.
 Round one of the Kwikfit British Touring car Championship due to have a 16-lap race didn't have the best start for both Crees and Hand losing positions on the start line however both drivers climbed back up the pack. Lap 3 saw a safety car due to one of the Toyota Corolla having issues causing them to completely stop on track. After 5 laps of the safety car the grid was back to full speed racing and both Creesy and Hand jumped up the grid to P18 and P22 however they didn't stop there. After a 19 lap race due to 3 laps being added because of the safety car the #777 car finished the race in a great, point scoring, position of p15 and Hand after gaining 3 positions finished in a respectable debut p19.
 Round two again hosting 16 laps of racing was entertaining to watch with certain drivers having mechanical issues but the CarStore Power Maxed drivers running faultlessly to secure P15 and Hand increasing to P17.
The final round of the day, held late in the afternoon but still with a busy grid walk filled with guests and fans and a track temperature of twenty-four degrees. The engines fired up, the lights went out and again the action continued thankfully no safety cars in this race but lots of over taking in the 16- laps from both drivers. Crees completing a best lap time of 1.09.938 and Hand 1.10.315 and finishing in P16 with Hand in P23.
 In conclusion the weekend was a success with both cars finishing all the races and both drivers feeling more comfortable in the cars. The team sit 5th in the BTCC Independents teams championship and Ash is currently running 4th for the Jack Sears Trophy. 
 Adam Weaver; Team principal shares, "I think we had a solid start to the championship, all things considered. Many teams were having much more drastic and costly issues to contend with and our cars ran well and completed all 3 races. Ash handled his baptism of fire well and now knows how tough the BTCC is and we can build from there. Creesy demonstrated that he is coming of age in the BTCC fighting, passing and defending well against the best of them. Having both joined a new team and had a lot of time away from racing I think everyone did really well. I know all our sponsors had a great weekend which is testament to how hard all of our hospitality colleagues work and I just want to pay thanks to them all for that."
Ash Hand; #97 said, "I Really enjoyed my first BTCC weekend, I learnt a lot about how everything works on the touring car grid. Now I have a base understanding of where we are as a team and what we need to work towards. Like some people on the grid we had hybrid and technical issues out of our control all weekend. I'm confident we will be in a much better position by the time we arrive at Brands Hatch. Huge thank you to all the team for the hard work put into weekend."
Michael Crees; #777 said, "Really happy with the weekend, we picked up pace and collected points, plus was amazing to see so many fans come out to support us. Now on to my home track for the next round, cant wait.
 Round 4, 5 and 6 held on 14th &15th of May at Brands Hatch on the Indy circuit.
For more images of Donington, please contact Dani@powermaxedracing.com
Image Credit: Steve Hindle.