Thrills and Spills for CarStore Power Maxed Racing at Thruxton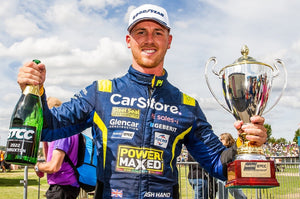 Thrills and Spills for CarStore Power Maxed Racing at Thruxton
The team were excited arriving at Thruxton with it being the 2nd visit this season and knowing how well we are capable of doing here. Also buoyed by the knowledge of improvements we had made between rounds with the weather on our side we were hopeful of a great weekend.
With our first few practice sessions showing promise yet again we were confident of a good qualifying result however with previous experience showing just how much the other engine cars can improve come qualifying there was still a touch of apprehension in the team.
As qualification got underway our apprehension was short lived as it was becoming obvious we were in for a good result with both drivers posting solid times early on, with Ash eventually bringing it home in 6th and Creesy only marginally behind in 7th, our best result of the season and their best results in BTCC qualifying ever.
Arriving at a tranquil circuit on Sunday almost eerily calm before the frantic action of racing begins. The team were all feeling very different to all other rounds this year with us knowing we were starting race 1 where we should be and not out of position for the very first time this season, but understandably a small amount of nerves hoping that the race day goes to plan.
With our guests welcomed and Drivers Q&A and pit lane signing sessions done it was time to line up for race 1 of the day.
With lights out the action frantically unfolded with both Ash and Creesy having to avoid incidents and coming out relatively unscathed.
Ash eventually bringing the car home in an incredible, best finish, 5th position, with Michael Crees in a very respectable 8th position. This also gave Ash his first Independent Driver Win.
Unfortunately we didn't come away from the race completely incident free with Ash's CarStore Power Maxed Racing Astra needing what we thought to be an inlet manifold change.
After a long delay due to an awful accident in the Ginetta race, race 2 got underway. With Ash making a good start he managed to hold on to 6th position until the M-Sport provided TOCA engine suddenly overheated with a catastrophic, race ending head gasket failure.
Creesy having dropped a few positions from his starting position of 8th battled his way back to 9th finishing between championship challengers and recently crowned King of Thruxton, Josh Cook and multiple champion Colin Turkington.
After an epic effort by the CarStore Power Maxed Racing crew with a full engine change in just under 2.5 hours on the 97 car of Ash Hand we headed out to race 3 with the 777 car of Michael Crees having been drawn to start P3 on the grid.
Unfortunately after a poor start Creesy dropped down the order, after some jostling in the first few corners he ended up in p9.
Ash fighting hard from his start position at the back of the grid due to his engine failure in race 2, and whilst doing so setting the fastest lap of the race early on, having made his way to 16th by lap 9. Only bested by the race leader and eventual winner, Josh Cook, later on in the race.
Creesy eventually finishing in 8th comfortably ahead of race 1 winner Dan Cammish and pressuring championship contender Tom Ingram for 7th.
Hand came home in 17th, narrowly missing out on a points finish, after a final lap incident with Adam Morgan as Morgan slowed, unusually, on the exit of Church. Ash had nowhere to go other than in to the back of the BMW.
Adam Weaver CarStore Power Maxed Racing Team Principal commented
"A much better weekend on the whole but still a very tough one at times. As always we showed our pace on Sunday this time however we had a great qualifying session and started in the starting positions we deserve. Unfortunately the failure of a vital component, outside of the teams control, put paid, on what could of been, for Hands weekend. He had a great qually and a great race 1 result even with what we now know to be a failing engine, which eventually ruined his race 2 leading to a frantic engine change and a start at the back for race 3. However Creesy had 3 solid finishes and we have showed we have pace. I'm still confident of that elusive podium before the season end.
Michael Crees
A Solid weekend. My Best weekend ever in BTCC which is testament to all the hard work that the teams around me are putting in. Gutted I couldn't convert my start in the last race in to a podium for myself and all the team, to reward their efforts. However that aside overall I'm happy and I'm really excited for Silverstone and hopefully we can do as well or better there.
Ash Hand
A great weekend in terms of speed and personal performance, we just need to carry that on to the end of the season now and keep building on what we have. This, our best result so far will become one of many good results that come from our last 9 races.
Martin Broadhurst
It was great to have the commentators and professional pundits commentating on our Drivers and their successes through this weekend, which is how they deserve to be spoken about just fate and fortune has not allowed it to show. They along with all the staff at CarStore Power Maxed racing are working harder than ever before, this season has been so tough and to have visible progress is incredible for us all. However this weekend was far from easy and we will continue our relentless efforts to make sure we put on a great showing for the final two rounds of the season.